Militants' use of social media tackled in Sydney
The Islamic State group has "global ambitions" and more must be done to tackle its use of social media for recruitment, representatives of governments and technology giants were told in Australia yesterday.
Australian Prime Minister Tony Abbott told the regional extremism conference that it was vital to find ways to stymie the ideology of militants who are drawing thousands of foreign fighters to Iraq and Syria.
"You can't negotiate with an entity like [the Islamic State], you can only fight it," he said to an audience including high-level officials from 30 nations, as well as Facebook, Twitter and Google.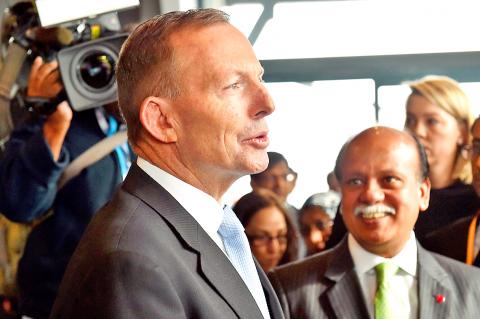 Australian Prime Minister Tony Abbott meets with delegates at the Regional Countering Violent Extremism Summit in Sydney yesterday.
Photo: AFP
"This is not terrorism for a local grievance, this is terrorism with global ambitions," Abbott said. "The only really effective defense against terrorism is persuading people that it's pointless."
"We need idealistic young people to appreciate that joining this death cult [Islamic State] is an utterly misguided and wrong-headed way to express their desire to sacrifice," he said.
The two-day meeting came as US President Barack Obama approved the deployment of 450 more military trainers to Iraq, joining an already 3,100-strong mission in the nation, in a cautious bid to reverse gains by the Islamic State, which is also known as DAISH, an acronym based on its Arabic name.
The new contingent is to focus on efforts to wrest back control of provincial capital Ramadi after the Muslim group, which already controls large swathes of Iraq and Syria, seized the predominantly Sunni city near Baghdad last month.
The Sydney gathering follows a similar meeting in Washington in February, at which Obama said nations had to tackle the root causes driving recruitment to such groups. However, the three days of talks did not lead to any concrete plans of measures to be taken.
Topics being discussed in Australia include working with social media, industry and civil society groups, combating terrorist propaganda and the involvement of women and families in any measures.
"Terrorists have exploited social media to develop a brand and to flood their target audience with propaganda that casts local conflicts to global audiences, drawing in foreign fighters from every corner of the globe," Australian Attorney-General George Brandis said in opening remarks. "So over the next two days, we will seek to deepen our shared understanding of the drivers that are pushing and pulling our citizens towards extremist ideologies."
He earlier told Channel Nine television that Google, Facebook and Twitter's attendance showed their commitment in addressing online recruitment.
"You are quite right when you say that online recruitment is one of the most rapidly emerging and most dangerous aspects of terrorist recruitment. No doubt at all it is aimed at the young," he said. "This has been to a large extent an ungoverned space in the past. Increasingly less so, by the way."
"I want to stress that Google, Facebook and Twitter have been very cooperative with governments trying to protect their populations from the use of online and social media as a recruitment tool," Brandis said.
Australian Minister of Foreign Affairs Julie Bishop said families and friends of those who become radicalized had to be empowered to help counter the Islamic State's propaganda tactics.
"DAISH adopts many of the same tactics as online sexual predators, grooming their young targets to not reveal their discussions or their changing beliefs to parents or friends," Bishop said. "Someone from the same background, faith or socioeconomic situation listening to them is best placed to understand their motivations and to explain where they're being misled or manipulated."
Australia, which raised its threat level to "high" in September last year, has introduced a set of national security measures including criminalizing travel to terror hotspots.
Comments will be moderated. Keep comments relevant to the article. Remarks containing abusive and obscene language, personal attacks of any kind or promotion will be removed and the user banned. Final decision will be at the discretion of the Taipei Times.