Woman in custody after baby dropped into lake
A 20-year-old woman surnamed Yang (楊) has been charged by police after she allegedly dropped her two-month-old infant into Longtan Lake in Taoyuan's Longtan District (龍潭) late on Wednesday night.
The incident happened at about 11pm, with Yang reportedly intoxicated, according to witnesses.
After the baby was dropped into the lake, three men nearby rushed to the infant's rescue.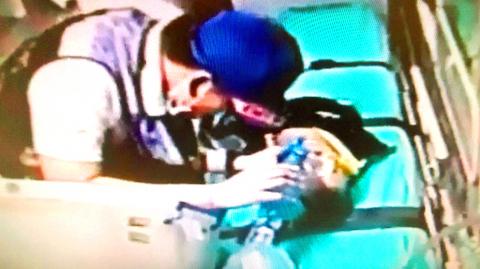 A medical worker treats a two-month-old infant in Taoyuan yesterday.
Photo: CNA
Yang was taken into police custody and is being investigated for alleged attempted manslaughter.
However, she denied that she intentionally dropped the baby into the water, saying that he accidentally fell into the lake during an altercation.
Yang married a man surnamed Wang (王) on March 17, three days after the baby was born, police said.
The couple faces economic difficulties and often fights over money, police said.
On Wednesday night, Yang left home after a fight, police said.
She went to an uncle's house to borrow money and then took two bottles of herbal wine to drink near the lake, according to police.
Yang's sister later joined her and Yang called Wang to join them, intending to seek reconciliation, police said.
However, the couple began arguing on the telephone, with Yang saying: "If you do not show up [at the lake] within an hour, I will jump into the lake with the baby."
Yang became irritated as time passed without her husband arriving, police said.
Then the baby started crying and Yang took him from his carrier, they said.
In a bid to prevent Yang from doing "stupid things," her sister tried to restrain her, according to police.
As the sisters struggled, the baby fell into the lake, they said.
Yang's sister shouted: "Help! My sister dropped her baby into the lake," according to police, prompting three young men nearby to rescue the baby, who was taken to hospital.
The baby was in stable condition, police said.
Additional reporting by CNA
Comments will be moderated. Keep comments relevant to the article. Remarks containing abusive and obscene language, personal attacks of any kind or promotion will be removed and the user banned. Final decision will be at the discretion of the Taipei Times.