Aung San Suu Kyi arrives in China for first visit
Burmese opposition leader Aung San Suu Kyi arrived in China yesterday for a debut visit that is expected to cast an intriguing light on Beijing's attitude toward the democracy champion and Nobel laureate as she bids to take power.
Aung San Suu Kyi emerged from Beijing's main international airport wearing a white top and pink sash and surrounded by police and security personnel, before getting into a black sedan, according to a reporter on the scene.
Beijing was a key backer of Myanmar's military junta while it was under Western sanctions — most of which have been lifted since 2011 — a much needed international ally for a brutal regime that crushed dissent and kept Aung San Suu Kyi under house arrest for more than 15 years.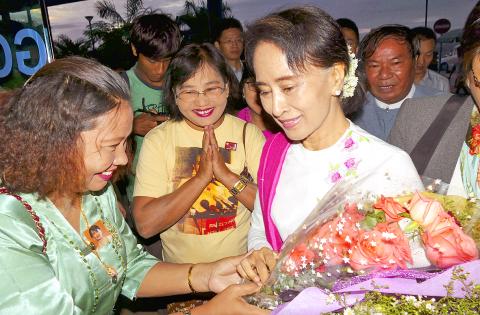 Burmese opposition leader Aung San Suu Kyi, right, yesterday receives flowers from a supporter upon her arrival at Yangon International Airport in Myanmar prior to her departure for China.
Photo: AP
Now the 69-year-old is visiting China both as a free woman and a politician ahead of crunch elections slated for November, at which her National League for Democracy (NLD) party is expected to make significant gains.
Nicholas Farrelly, a Myanmar specialist at the Australian National University, said the former political prisoner will not allow China's historical support for a junta that imprisoned her to cloud her judgement.
"Aung San Suu Kyi is getting on with the business of trying to win an election. She will be utterly pragmatic about what is at stake and cannot afford to indulge undue sentiment," he told reporters. "She knows that China will play a mighty role in Myanmar's future."
Aung San Suu Kyi is visiting Myanmar's giant northern neighbor alongside a delegation of NLD members following an invitation from the Chinese Communist Party.
The NLD has said she is expected to meet Chinese President Xi Jinping (習近平) and Chinese Premier Li Keqiang (李克強), but no detailed itinerary has yet been released by the Chinese authorities.
However, an official at the airport from Myanmar's embassy in China said she would meet Xi today and would be staying at the Diaoyutai State Guest House.
The delegation's arrival comes as China's once near monopolistic relationship with Myanmar faces competition from a raft of new suitors.
Burmese President Thein Sein has embraced the international community following the lifting of most sanctions and reached out to the US, which is hankering after friends in Southeast Asia as part of its Asia "pivot."
Aung San Suu Kyi became one of the world's most famous political prisoners during her house arrest for much of the 1990s and 2000s because of her outspoken opposition to military rule. She was awarded the Nobel Peace Prize in 1991.
However, her global image as an upholder of human rights has lost some of its luster, as she has come under criticism for her reluctance to speak out on the plight of Myanmar's Rohingya Muslims, who are at the center of a migrant crisis engulfing the region.
While in Beijing, she is likely to face calls to raise the case of jailed fellow Nobel laureate Chinese writer Liu Xiaobo (劉曉波), sentenced to 11 years in prison in 2009 for circulating a petition calling for democratic reforms.
Comments will be moderated. Keep comments relevant to the article. Remarks containing abusive and obscene language, personal attacks of any kind or promotion will be removed and the user banned. Final decision will be at the discretion of the Taipei Times.