S Korean leader postpones US trip as MERS cases rise
South Korean President Park Geun-hye yesterday postponed a US visit to supervise the handling of an outbreak of Middle East respiratory syndrome (MERS), as two more people died and 13 new cases were reported, lifting the total number of patients to 108.
Park had been due to leave for the US, her country's closest ally, on Sunday and meet US President Barack Obama on Tuesday. Her office said the coming week would be a "watershed" for the country's response to the disease.
The outbreak has fueled public anxiety and hit spending, with thousands in quarantine and the number of schools closing rising to 2,474, including 22 universities. Many people on the streets are wearing face masks, while attendance at movie theaters and baseball games has dwindled.
A healthcare worker yesterday checks on a patient infected with Middle East respiratory syndrome (MERS) in an isolation ward at Seoul Medical Center in Seoul, South Korea.
Photo: Reuters
First identified in humans in 2012, MERS is caused by a coronavirus from the same family as the one that triggered China's deadly 2003 SARS outbreak. There is no cure or vaccine.
Some countries around the region have issued advisories against travel to South Korea or stepped up screening of inbound passengers, dealing a setback to a tourism sector that had been a bright spot for the flagging South Korean economy.
Incheon International Airport said the number of passenger arrivals increased year-on-year between May 20 and Friday last week, but showed 25 percent and 31 percent drops on Monday and Tuesday respectively.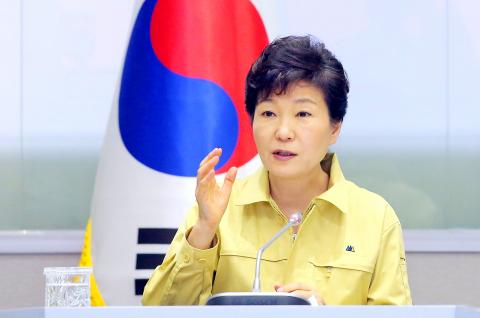 South Korean President Park Geun-hye presides over an emergency meeting in Sejong, South Korea, on Monday.
Photo: EPA
Taiwan's two biggest airlines are temporarily cutting flights to South Korea by nearly half. Hong Kong's Cathay Pacific Airways Ltd said it had seen a drop in bookings to South Korea.
The WHO, which began work on Tuesday with South Korea to analyze the virus and review the response, has not recommended any curbs on travel or trade.
The latest two deaths, both cancer patients, bring the number of fatalities to nine. All of those who died had been suffering serious ailments before they tested positive for MERS, the South Korean Ministry of Health said.
South Korea's infections have all been traced to a man who developed MERS after returning from a trip to the Middle East early last month and who came into contact with other patients at a hospital before being diagnosed.
All subsequent infections, including the 13 announced yesterday, have been linked to health facilities, the ministry said.
The number of people who might have been in contact with MERS patients and were now in quarantine rose to 3,439, while quarantine has been lifted for 641 people, the ministry said.
Deputy Prime Minister Choi Kyung-hwan, also the minister for finance, announced a 400 billion won (US$357 million) financial package for business and regions affected by MERS, without giving specifics.
South Korea's central bank is expected to cut interest rates today to dampen the economic impact of the outbreak, according to a Reuters poll of analysts released on Tuesday.
South Korea's new cases bring the total number of MERS cases globally to 1,257 based on WHO data, with at least 448 related deaths. The country has the second-highest number of cases after Saudi Arabia, according to the European Centre for Disease Prevention and Control.
Comments will be moderated. Keep comments relevant to the article. Remarks containing abusive and obscene language, personal attacks of any kind or promotion will be removed and the user banned. Final decision will be at the discretion of the Taipei Times.