Seoul reports MERS deaths
INFECTIOUS FEAR: South Korean campuses closed and nurses in China drew straws to see who would treat the ailing man who brought the disease to China from Seoul
The health of a South Korean man who entered China with the Middle East respiratory syndrome (MERS) virus deteriorated and he was on a respirator, Chinese state media reported yesterday, as South Korea confirmed the nation's first two deaths from the virus.
South Korea has reported 24 cases of the disease since its first, found last month in a man who had traveled to Saudi Arabia and other Middle Eastern countries.
Most of South Korea's cases have had connections to the first patient — either medical staff who treated him or patients who stayed near him at the hospital before he was diagnosed, and their relatives.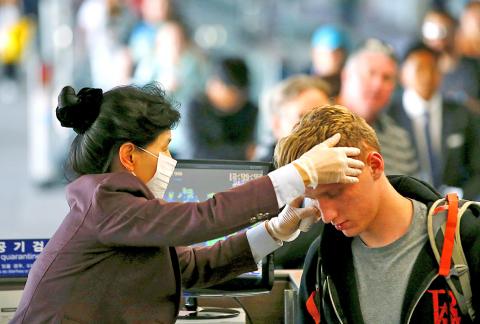 A quarantine officer checks the body temperature of a passenger at Incheon International Airport in Incheon, South Korea, yesterday.
Photo: Reuters
Tests on a 58-year-old woman who died on Monday showed she had been infected, the South Korean Ministry of Health and Welfare said in a statement. A 71-year-old man who tested positive last week also died, it said.
The statement said both stayed at the hospital with the first case.
Officials yesterday said that about 750 people in South Korea were isolated at home or in state facilities after having contact with infected people.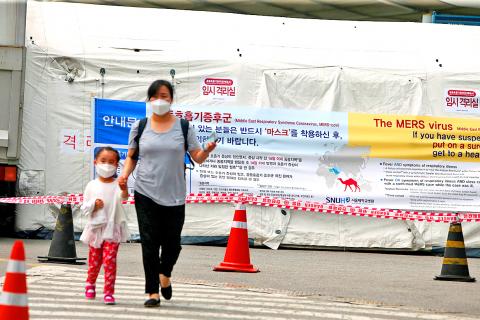 A woman and a young gi rl wearing facial mask walk near a precautionary quarantine tent at Seoul National University Hospital in Seoul, South Korea, yesterday.
Photo:EPA
More than 50 schools and kindergartens near a hospital near Seoul where the 58-year-old patient who died was treated have canceled classes from today until Friday to let children stay at home, according to the education agency in Gyeonggi Province, which surrounds Seoul.
Separately, reports emerged online that the hospital selected staff to treat the first case by drawing straws and that single employees were sent first.
The Huizhou Central People's Hospital said nurses were asked to draw lots because there were "too many volunteers," a news Web site based in Shanghai said on Monday.
Comments will be moderated. Keep comments relevant to the article. Remarks containing abusive and obscene language, personal attacks of any kind or promotion will be removed and the user banned. Final decision will be at the discretion of the Taipei Times.