Ministry promoting stereotypes: groups
The Ministry of Education's high-school curriculum guidelines employ discriminatory language to refer to foreign spouses and other immigrants, human rights and immigrant advocacy organizations said yesterday.
Led by the Taiwan Association for Human Rights (TAHR), the groups said that the guidelines perpetuate negative stereotypes of immigrants by using such phrases as "foreign brides," "Filipino maids" and "Indonesian maids."
The use of such terms is unacceptable, they said, adding that the government has long declared its preferential use of the phrase "foreign spouses" over "foreign brides."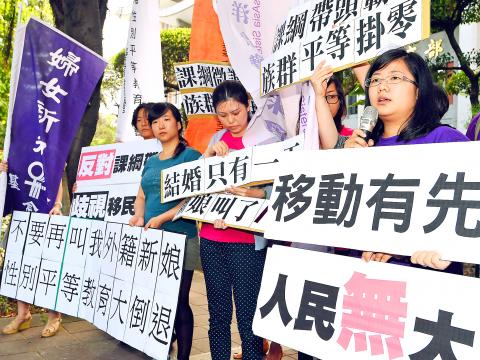 Members of human rights and immigrant advocacy organizations protest yesterday in Taipei saying the Ministry of Education is employing discriminatory language that fosters stereotypes about immigrants from Southeast Asia.
Photo: Fang Pin-chao, Taipei Times
Furthermore, referring to immigrant women as "brides" perpetually defines them through their marriage instead of as individuals, they said.
The groups prefer the use of "migrant workers" or "Southeast Asian immigrants" instead of "maids" or "foreign laborers (外勞)," they said.
"The marriage ceremony lasts for only a day, but we get referred to as foreign brides for more than 20 years," TransAsia Sisters Association, Taiwan, executive secretary Hong Man-chi (洪滿枝) said.
"By choosing to use such vocabulary, the committee members in charge of curricula show that they lack understanding about the cultures and histories of immigrants and migrant workers and their decades of contributions to Taiwanese society," the TAHR said in a statement.
The statement said that the ministry is "leading the way in discrimination" and questioned whether the ministry intends to teach children born to international marriages to use discriminatory language toward their own family members.
The incident illustrates the lack of professional credentials among the committee members in evaluating curriculum design, TAHR legal specialist Hsu Jen-shuo (許仁碩) said.
He urged increased transparency on the development of curriculum guidelines for the 12-year national education program.
Announced in January last year, the new curriculum guidelines are to be adopted by high schools nationwide in August.
The curriculum guideline for 10th-grade geography contains a passage that reads: "The migration of Africans to southern Europe, Indonesian maids and Filipino maids seeking employment in Taiwan and [the phenomenon of] foreign brides can all be classified as cases of global mobility."
In response, Ministry of Education Chief Secretary Wang Chun-chuan (王俊權) acknowledged that the phrases held discriminatory connotations and assured the public that the guidelines would be swiftly revised.
Comments will be moderated. Keep comments relevant to the article. Remarks containing abusive and obscene language, personal attacks of any kind or promotion will be removed and the user banned. Final decision will be at the discretion of the Taipei Times.