Chu in Shanghai, urges young to be more responsible
Younger generations should be more socially responsible than older generations — who tend to single-mindedly focus on accumulating wealth — to pursue social justice and public well-being, Chinese Nationalist Party (KMT) Chairman and New Taipei City Mayor Eric Chu (朱立倫) said yesterday in Shanghai.
The Central News Agency reported from Shanghai that Chu, in a speech to students at Fudan University, encouraged young people to take up social responsibility in addition to making themselves better off.
"With great power comes great responsibility," Chu said, drawing on the famous line from the Spider-Man franchise in a 30-minute speech, as he told the students they should think about what they can do for subsequent generations, because they are all students of great ability, CNA reported.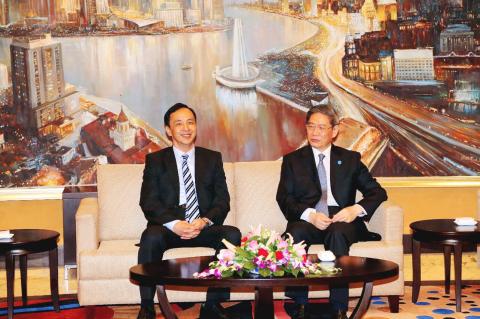 Chinese Nationalist Party (KMT) Chairman Eric Chu, left, meets with Taiwan Affairs Office Minister Zhang Zhijun at Shanghai Pudong International Airport yesterday.
Photo provided by the KMT
As Thomas Piketty's book Capital in the Twenty-First Century has highlighted, economic growth does not necessarily bring public well-being and it also leads to the unequal distribution of income, widening the gap between the rich and the poor, Chu added.
Taiwan has gone through a period of rapid of economic development, with people having increased their income 10-fold, and so has China, Chu said.
"For my generation, economic growth remains the top priority," the 53-year-old Chu was quoted as saying.
Today, Taiwan has come to a point in its development where its young people have different ways of thinking — how much they can earn is not their only concern, as they want to make a better world for future generations, Chu said.
"Many young people in Taiwan would say that money is not what matters most to them. They either seek after a 'little happiness' or 'aim high,'" he added.
While answering questions from the students on how to make the KMT more appealing to young voters, Chu said the party has communicated with young people to help them turn their ideas into policy and has worked hard to push for policies that can realize social justice and reduce inequality.
The speech was the first stop of Chu's three-day visit to China. Tomorrow, he is to travel to Beijing to meet with Chinese President and Chinese Communist Party (CCP) General Secretary Xi Jinping (習近平) after attending the 10th Cross-Strait Economic and Cultural Forum, also known as the KMT-CCP forum.
Chu and his 100-strong delegation were greeted by China's Taiwan Affairs Office Minister Zhang Zhijun (張志軍) at noon at Pudong International Airport in Shanghai.
Chinese People's Political Consultative Conference Chairman Yu Zhengsheng (俞正聲) hosted a dinner reception for the delegation last night.
At a pretrip news conference in Taipei on Friday, Chu said he would not touch upon the possibility of Taiwan and China signing a peace agreement at his meeting with Xi, but New Party Chairman Yok Mu-ming (郁慕明) yesterday said that the issue should not be omitted.
Yok, a member of Chu's delegation, told the Chinese-language United Daily Evening News that Chu should suggest a peace agreement to Xi.
"How do wars start in human history? Do they not begin because the parties involved were at each other's throats? Politics is the art of compromise. Both sides of the [Taiwan Strait] can only ensure lasting peace by signing a peace accord," the evening newspaper quoted Yok as saying.
Comments will be moderated. Keep comments relevant to the article. Remarks containing abusive and obscene language, personal attacks of any kind or promotion will be removed and the user banned. Final decision will be at the discretion of the Taipei Times.