Former PRC state assets chief pleads guilty to graft: court
Former Chinese state assets chief Jiang Jiemin (蔣潔敏) — one of the highest-profile casualties of the nation's anti-graft drive and an ally of former Chinese security chief Zhou Yongkang (周永康) — confessed to corruption at his trial yesterday, a court said.
Jiang admitted his offenses at the Hanjiang Intermediate People's Court in the central province of Hubei, the court said on Sina Weibo.
He is accused of bribery and abuse of power, the court said, adding that Jiang allegedly possessed "a huge amount of assets of unknown origin."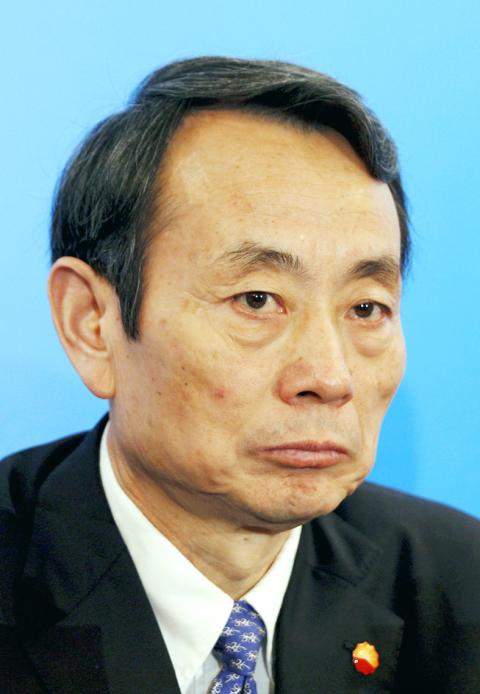 Then-China National Petroleum Corp chairman Jiang Jiemin attends a press conference announcing the company's results in Hong Kong on March 25, 2010.
Photo: Reuters
In a lengthy address, Jiang admitted his guilt and appealed for leniency, the court said.
"The facts of my crime are clear, the evidence is true and undeniable, and the Hanjiang court's lawsuit is objective," Jiang said, according to the court statement.
"I confess to the facts of the crime without concealing anything. I admit my guilt and repent for my crimes," he said, adding that he had "damaged the image of the [Chinese Communist] Party within the hearts of the people."
"For these errors, I am deeply, deeply repentant," he said, according to the statement.
The hearing was completed yesterday afternoon and the judges "will select a date to announce the decision after deliberating in accordance with the law," the court said.
Photographs posted by the court showed a stern-faced Jiang standing in the courtroom, clad in a dark blue jacket and with police officers towering over him on either side.
Chinese courts are closely controlled by the Chinese Communist Party, as is reporting on sensitive trials, and a guilty verdict is effectively a certainty.
Jiang worked for decades in China's petroleum industry and rose to become chairman of China National Petroleum Corp (CNPC, 中國石油天然氣), the nation's biggest oil producer.
He has links going back to the 1980s with Zhou, a former CNPC chief himself who went on to become China's hugely powerful internal security chief, but was charged with bribery and abuse of power this month.
Prosecutors accused Jiang of "seeking profit in exchange for approving projects and granting promotions," Xinhua news agency reported.
They pointed to 14 instances where Jiang "solicited or illegally accepted money and goods either directly or through his wife," Xinhua said.
"Prosecutors pointed out that as of Aug. 31, 2013, Jiang Jiemin's personal and family assets and expenses clearly exceeded his and his family's lawfully earned income, and Jiang was unable to explain the source of the huge sum accounting for the difference," Xinhua reported.
Neither Xinhua nor the court immediately provided further details.
Jiang was tapped in March 2013 to run the state-owned Assets Supervision and Administration Commission, which oversees China's many powerful state-owned enterprises, but less than six months later, an internal Chinese Communist Party watchdog announced that it was probing him for alleged "serious disciplinary violations," a euphemism for official corruption.
According to state-run media, the move marked the first investigation of a member of the party's powerful Central Committee, which has about 200 members.
Comments will be moderated. Keep comments relevant to the article. Remarks containing abusive and obscene language, personal attacks of any kind or promotion will be removed and the user banned. Final decision will be at the discretion of the Taipei Times.