Gou was mystery donor, Ko says
RUMOR: The Taipei mayor said that Ker Chien-ming told him that Terry Gou was not interested in having a meeting because he had already invested NT$300m in the election
Taipei Mayor Ko Wen-je (柯文哲) yesterday testified that Hon Hai Precision Industry Co (鴻海精密) chairman Terry Gou (郭台銘) was the mysterious donor who Ko had previously said donated NT$300 million (US$9.57 million) to his rival in last year's mayoral election.
However, Democratic Progressive Party caucus whip Ker Chien-ming (柯建銘) rebutted Ko's testimony at a separate setting, saying that Gou made the NT$300 million donation to the Taipei City Government, not to former Taipei mayoral candidate Sean Lien (連勝文) of the Chinese Nationalist Party (KMT).
Ko was called to the Taipei District Court to testify in a defamation lawsuit against media personality Clara Chou (周玉蔻). Gou sued Chou after she said on a television program that Ko had told her that Gou had donated NT$300 million to Lien in last year's mayoral election.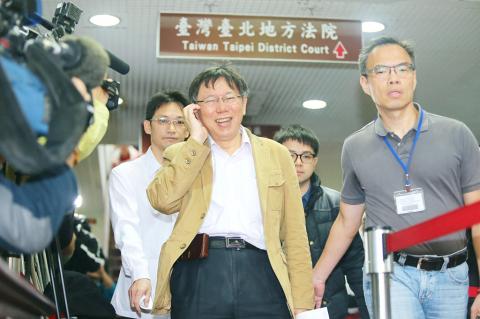 Taipei Mayor Ko Wen-je, center, smiles at reporters at the Taipei District Court yesterday.
Photo: CNA
Ko yesterday testified he had asked Ker to help him arrange a meeting with Gou before last year's mayoral election in the hope of easing Gou's "doubts" about him.
However, he gave up on the idea after following up with Ker, who told him that Gou had said he was not interested in meeting because he had already invested NT$300 million in the race and did not want to "switch men," Ko said.
He added that he had not sought to verify Ker's statement and had no further evidence. Presiding Judge Li Lu-hua (李陸華) ruled that he did not have to respond to questions from Gou's lawyers about his views on the reliability of Ker's statement.
Ko also confirmed that he had told Chou about the incident before appearing on her radio program on Dec. 1 last year.
Meanwhile, at a press conference at the legislature, Ker said that Ko had come to his office in July or August last year, asking if Ker could help him get an introduction to Gou.
"Ko thought that, to run in the mayoral election, he should establish good ties with everyone, but I thought it was not very appropriate, so I did not make contact," Ker said.
Later, during a meeting between Gou and Ker, Gou said that Ko's office had contacted him, but Gou asked Ker to tell Ko that he would not meet with him, since Gou had supported the KMT for a long time and had backed Lien to win the mayoral election.
As for the donation, Ker said Gou donated the money to the city government for the Taipei exhibition hall at the Expo 2010 in Shanghai.
Responding to Ker's remarks, Chou yesterday on Facebook queried if there was any connection between Gou's donation to the city government and his winning the bid for the Syntrend Creative Park (三創園區).
Ko had previously said in a January television interview that he had sought to meet with a businessman during his campaign, only to be rejected because the businessman had already donated NT$300 million to his opponent.
The city government has been locked in conflict with Gou's Hon Hai Group (鴻海集團) over the terms of the Syntrend Creative Park development project, which was outsourced by the city to one of Hon Hai's subsidiaries. When the group threatened to cease construction until the city government affirmed the legality of its bid, Ko said he had never taken Gou's money and did not owe him anything.
Ko, Ker and Gou are set to appear before the court on April 28 for further cross-examination.
Meanwhile, Lien's spokesperson Chien Chen-yu (錢震宇) said yesterday that Lien had "openly" and "transparently" reported all campaign contributions.
Hon Hai said in a statement that Ko's court testimony showed that he had only heard a rumor from someone else.
Hon Hai said Ko did not verify the authenticity of the rumor and had no any evidence to prove that Gou donated NT$300 million to Lien during the campaign.
Hon Hai said Ker's remarks yesterday proved that Gou did not donate NT$300 million to Lien and the firm hopes the public would stop spreading the false rumor.
Additional reporting by Loa Iok-sin
Comments will be moderated. Keep comments relevant to the article. Remarks containing abusive and obscene language, personal attacks of any kind or promotion will be removed and the user banned. Final decision will be at the discretion of the Taipei Times.