White US officer charged with murder in black man's death, caught on video
Dramatic video that shows a white South Carolina police officer shooting a fleeing black man has led authorities to file a murder charge against the officer amid public outrage over a series of deaths of unarmed black men at the hands of US law enforcement agents.
The video, provided to the dead man's family and lawyer by an unidentified person, shows Michael Thomas Slager, an officer in the city of North Charleston, firing eight shots at the back of Walter Lamer Scott as Scott runs away. The 50-year-old man falls after the eighth shot, fired after a brief pause.
The shooting comes amid an ongoing nationwide debate over issues of trust between law enforcement and minority communities.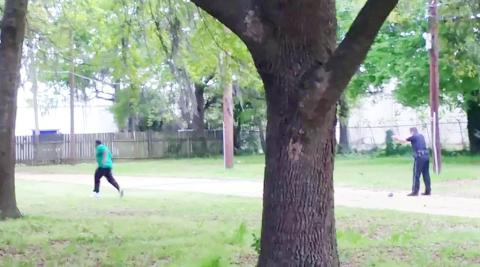 North Charleston police officer Michael Slager, right, is seen allegedly shooting 50-year-old Walter Scott in the back as he runs away, in North Charleston, South Carolina, in a still image from video taken on Saturday.
Photo: Reuters
Protests, some violent, erupted in many US cities last year following the fatal shooting of 18-year-old Michael Brown in Ferguson, Missouri, and the chokehold death of Eric Garner in New York City. The furor grew after grand juries declined to indict the white officers who killed them.
North Charleston Mayor Keith Summey announced the charge against Slager at a news conference on Tuesday.
Authorities said Scott was shot after the officer had already hit the man with a stun gun after a traffic stop on Saturday that began over a faulty brake light.
"When you're wrong, you're wrong," Summey told reporters. "When you make a bad decision, don't care if you're behind the shield or a citizen on the street, you have to live with that decision."
Slager, who has been with the North Charleston police for five years, was denied bond at a first appearance hearing on Tuesday. He was not accompanied by a lawyer. If convicted, he could face 30 years to life in prison.
A local Black Lives Matter group, formed after Brown's death in Ferguson, planned a demonstration yesterday morning at North Charleston City Hall.
Scott's family and their attorney, L. Chris Stewart, called for calm and peaceful protests.
They said the murder charge showed that the justice system is working in this case.
However, Stewart said the video forced authorities to act quickly and decisively.
"What if there was no video? What if there was no witness, or hero as I call him, to come forward?" Stewart asked.
Slager's then-attorney David Aylor had released a statement on Monday saying the officer felt threatened and that Scott was trying to grab Slager's stun gun.
Aylor dropped Slager as a client after the video surfaced.
Comments will be moderated. Keep comments relevant to the article. Remarks containing abusive and obscene language, personal attacks of any kind or promotion will be removed and the user banned. Final decision will be at the discretion of the Taipei Times.