Arab air strikes cripple Yemen's main airport
Saudi-led warplanes bombed Yemen's main international airport and struck a renegade troop base in the capital, Sana'a, as Arab leaders vowed yesterday to pummel the Houthi rebels until they surrender.
The raids on the nation's main air gateway came just hours after UN workers were evacuated following deadly fighting that has sent tensions between Tehran and other Middle East powers soaring.
Yemeni President Abed Rabbo Mansour Hadi has urged his Arab allies to keep up the bombing until the Houthi Shiite rebels are defeated, branding them Iran's "puppet."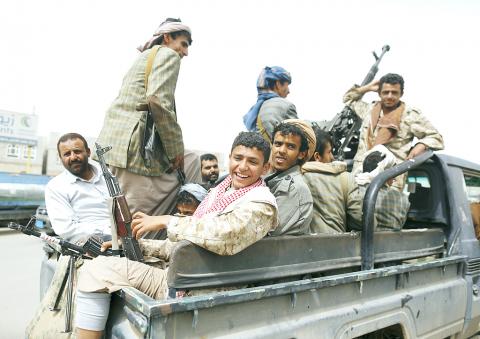 Houthi fighters ride a patrol truck outside the international airport in Sana'a, Yemen, on Saturday.
Photo: Reuters
Arab League Secretary-General Nabil Elaraby said at a regional summit in Egypt yesterday that the offensive would go on until the rebels "surrender" their weapons and withdraw from areas they seized.
The Houthis and allied renegade military units have overrun much of Yemen and prompted Hadi to flee what had been his last remaining refuge in the main southern city Aden for Saudi Arabia.
Dozens of people have been killed in clashes in Aden in recent days, dimming prospects of Hadi returning anytime soon.
In Sana'a, witnesses reported hearing three loud explosions and seeing a large fire when Sana'a International Airport was bombed during a fourth night of air raids.
"This was the first time they hit the runway" since the campaign began, an aviation source said. "The airport is completely out of service."
More than 200 staff from the UN, foreign embassies and other organizations had been flown out from the airport on Saturday.
Pakistan said it was preparing to evacuate its citizens and diplomatic staff from Hudaida in western Yemen.
Overnight air strikes hit the headquarters of the rebel republican guard at al-Subaha base in Sana'a, killing 15 soldiers, a military official said.
At the regional summit in Sharm el-Sheikh, Egyptian President Abdel-Fattah al-Sisi said Arab leaders had "agreed on the principle" of creating a joint military force.
The Sunni Arab coalition is said to have been spurred into action by the prospect of a regime thought to be backed by Iran seizing power in impoverished Yemen, wedged on the southern tip of the Arabian Peninsula.
The fighting has cast a shadow over crunch talks between world powers and Iran aimed at ensuring Tehran never develops an atomic bomb.
Comments will be moderated. Keep comments relevant to the article. Remarks containing abusive and obscene language, personal attacks of any kind or promotion will be removed and the user banned. Final decision will be at the discretion of the Taipei Times.