Globe marks Earth Hour
The Empire State Building dimmed its lights and the Eiffel Tower went dark on Saturday as iconic landmarks across the world observed Earth Hour, the global climate change awareness campaign.
In Taiwan, the lights went off on Taipei 101, the world's tallest building before it was overtaken by Dubai's Burj Khalifa, while in Kuala Lumpur the usually dazzling Petronas Twin Towers were dark.
Hong Kong's signature high-rise skyline along Victoria Harbour was a shadow of itself, with its towering skyscrapers standing dark — among them the territory's tallest building, the 118-story International Commerce Centre.
People light candles during Earth Hour in Cali, Colombia, on Saturday.
Photo: EPA
In Singapore, all Earth Hour events were canceled because of public mourning following the death of the city-state's founding prime minister, Lee Kuan Yew.
The usually glittering nighttime majesty of the Empire State Building was set to "faint sparkle" in New York City, while theaters on Broadway also toned down the neon.
Millions of people around the world took part in the annual Earth Hour organized by conservation group WWF, with a string of well-known sights plunging into darkness globally.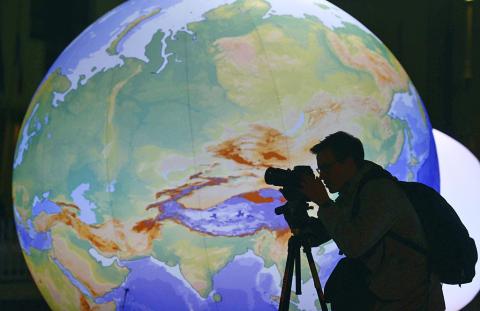 A photographer is silhouetted against an illuminated globe at the Brandenburg Gate in Berlin ahead of the global climate change awareness campaign Earth Hour on Saturday.
Photo: AFP
The famous Las Vegas Strip went dim, with the replica Eiffel Tower at Paris Hotel turning its lights off, along with several hotels and casinos that normally illuminate the main drag.
Other US west coast cities marked the occasion by switching off, with the Golden Gate Bridge in San Francisco going dim and the normally bright gateway pylons at Los Angeles LAX airport turned off after being lit in green in honor of the occasion.
Further south, landmarks in Mexico City and Rio de Janeiro were also dimmed for the hour, shrouding parts of the cities in darkness.
Earlier in Paris, the Eiffel Tower went black for just five minutes — due to security reasons — while nearly 300 other monuments in the City of Light also switched off their lights.
The initiative began in Sydney in 2007, but quickly went global.
Earth Hour's goal is not to achieve measurable electricity savings, but to raise awareness, organizers said.
Comments will be moderated. Keep comments relevant to the article. Remarks containing abusive and obscene language, personal attacks of any kind or promotion will be removed and the user banned. Final decision will be at the discretion of the Taipei Times.