Activists, former toll workers lay siege to premier
More than 50 former freeway toll collectors stormed the Taipei apartment building where Premier Mao Chi-kuo (毛治國) lives yesterday at about 7:30am, leading to violent scuffles with police.
Scores of protesters swarmed a staircase leading to Mao's fourth-floor apartment, while others occupied the entrance hall of the building.
Three protesters were arrested by police and a reporter from the Storm Media news Web site was reportedly injured during the protest.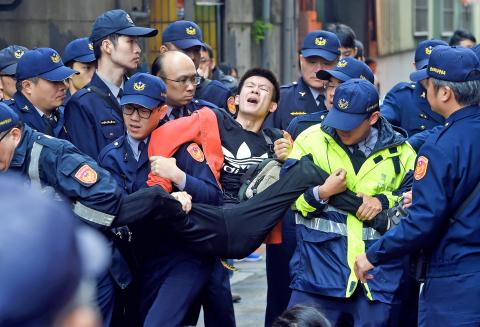 A protester is carried away by police yesterday during a protest by laid-off toll workers outside Premier Mao Chi-kuo's residence in Taipei. The toll collectors demanded that the government provide them with severance packages according to their years of service, in addition to assistance in finding new jobs.
Photo: Lo Pei-der, Taipei Times
Police dragged reporter Yeh Yu-chuan (葉瑜娟) down the staircase from the fourth floor to the first floor, even after she had told them she was a journalist and wanted to remain at the protest, she said.
Yeh sustained an injury to one of her fingers. A photograph she posted on Facebook showed damaged skin on her right hand.
She added that she received medical treatment and is considering taking legal action.
Heavily guarded by police officers, Mao exited his apartment at about 9am and was showered with dozens of shoes hurled by angry protesters.
The former toll collectors later rallied outside the headquarters of the Taipei City Police Department's Mobile Division, demanding that the police release the three arrested activists.
Although they were released yesterday afternoon after being questioned by officers, they could face charges of obstructing police officers carrying out their duties, fellow labor activist Wu Jing-ru (吳靜如) said.
Hundreds of former toll collectors have been unemployed since the nation switched to an electronic toll collection system and tore down all the freeway toll booths in January last year.
In addition to assistance in finding new jobs, the toll collectors are demanding that the government provide them with severance packages according to their years of service, instead of a flat seven-month stipend.
They said the Ministry of Transportation and Communications illegally employed them as short-term contractors — resulting in lower severance packages — although many of the toll collectors had held their jobs for nearly two decades.
Executive Yuan spokesperson Sun Lih-chyun (孫立群) said that the premier was not disturbed by the protest, but that he considered it "regrettable" to be unable to leave for work under such circumstances.
The protest was illegal and should be handled by the authorities according to the law, Sun said.
The National Freeway Bureau condemned the protest, saying that the laid-off workers' demands far exceed the legal limits defined and that they would not win the support of the public.
Bureau Director-General Chen Yen-po (陳彥伯) said the former toll collectors were contractors whose contracts had to be renewed every year. Because of the conditions set for their employment, he said that the Labor Standards Act (勞動基準法) applied only to some of them, starting in 2008.
However, the collectors to whom the act does not apply asked to be compensated based on the act as well, he said.
Among the collectors protected by the act, Chen said that some asked that the number of years they worked before the act be taken into account when the government calculated their severance payment.
Still others asked to withdraw their retirement funds, even though they have yet to reach the legal retirement age stipulated in the act, he said.
"The government would have to spend NT$2.6 billion [US$82 million] compensating these former toll fee collectors alone, if it did what they wish," he said. "All the contractors hired by government agencies might be asked to be compensated in the same way once the precedent is set, which would cause the government to pay out more than NT$100 billion in compensation. If that happens, it will affect the entire labor insurance system, forcing the entire nation to pick up the tab."
Chen also emphasized that each former toll collector had received either a savings fund or a labor retirement preparatory fund, depending on the conditions of their employment.
Each has also received an additional payment equivalent to seven months of their salaries from the National Freeway Bureau as part of their severance package, he added.
Chen said that 518 former toll collectors have chosen to collect additional severance payments offered by the electronic toll collection system operator, Far Eastern Electronic Toll Fee Collection Co (FETC, 遠通電收), which was paramount to five months of their salaries.
In addition, 425 former toll collectors indicated that they wanted to find new jobs through the arrangement of FETC, with 160 of them finding jobs through the arrangement, Chen said.
Among the 260 other former collectors who have yet to be employed, 67 of them found a matching job and decided not to take it, while 57 reported to their new jobs, but left them after working only for a short period of time.
One of them had just returned to the job market after recovering from an injury, he added.
The remaining 135 have neither responded to job offers given to them nor indicated exactly how they want to be compensated, Chen said.
The bureau said that the jobs granted to former toll fee collectors are nearly threshold-free and are within 30km from their residences. The jobs given to them were not limited to positions within the Far Eastern Group, the bureau said, adding that the program has been expanded to include positions related to the national freeways.
Since Dec. 30 last year, the bureau has held 17 large job fairs for the laid-off collectors. It had arranged 71 small job-finding sessions for them as well.
In response to the bureau's defense, Wu said the response is ridiculous.
"They have adopted a very tough attitude and in no way made an attempt to solve any problems," Wu said.
Additional Reporting by CNA
Comments will be moderated. Keep comments relevant to the article. Remarks containing abusive and obscene language, personal attacks of any kind or promotion will be removed and the user banned. Final decision will be at the discretion of the Taipei Times.