Traffic heavy amid 'zou chun' visits
FLOWER POWER: The Changhua Flower Festival opened at the Changhua Fitzroy Gardens with blossoms planted to highlight different sheep-centered themes
Heavy traffic was seen on some southbound lanes on the nation's highways as people seized the first day of the Lunar New Year to practice the custom of zou chun (走春) or "spring walk" — meaning to take a walk to make courtesy calls to relatives and friends or visit temples and scenic spots.
Statistics from the National Freeway Bureau show that traffic built up by 10am on the sections between Hukou (湖口) and Hsinchu on the southbound lanes of the National Sun Yat-sen Freeway (Freeway No. 1) as well as between Changhua and Puyan (埔鹽).
Traffic jams were also reported on the northbound lanes of the National Sun Yat-sen Freeway between the Dingjin (鼎金) and Nanzih (楠梓) Interchange System, Formosa Freeway's (Freeway No. 3) southbound lanes between Dasi (大溪) and Longtan (龍潭), between Kuaiguan (快官) and Wufong (霧峰), and between Caotun (草屯) and Nantou (南投), as well as the eastbound lanes of the Nantou Freeway (Freeway No. 6) between Guosing (國姓) and Beishan (北山).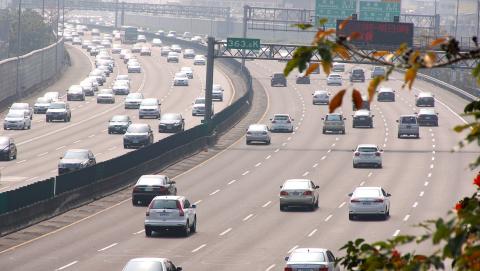 Traffic swells near Kaohsiung yesterday as people take advantage of sunny skies to visit relatives and friends on the first day of the Lunar New Year.
Photo: CNA
"Traffic on the remaining areas of the highways moved rather smoothly yesterday, with a travel time between Taipei and Kaohsiung of less than five-and-a-half hours in both directions," the bureau said.
The bureau said the traffic volume was expected to reach 2.9 million vehicles yesterday, compared with 2.15 million on Wednesday.
Meanwhile, the Taiwan Railways Administration estimated that more than 700,000 passengers took its trains yesterday, up 3 percent from the same period last year.
"The number of people traveling via rail on Lunar New Year's Eve on Wednesday reached 479,399 this year, a 2.3 percent increase from last year's 468,671," the agency said.
It urged passengers to prepare themselves for overcrowded stations on Sunday and Monday, when most people will be heading home to get ready for the new lunar year's first working day on Tuesday.
In other news, the annual Changhua Flower Festival opened at the Changhua Fitzroy Gardens yesterday.
The exhibition showcases various blossoming plants planted to highlight different sheep-centered themes to celebrate the beginning of the Lunar New Year, the Changhua County Government said.
Now in its ninth year, the festival attracts hundreds of thousands of visitors annually including many flower buyers, the county government said.
The festival site is open daily from 9am to 5pm and the exhibition runs through March 1.
Further information about the festival is available at the county government's dedicated Web site (ch-flower2015.com.tw).
Comments will be moderated. Keep comments relevant to the article. Remarks containing abusive and obscene language, personal attacks of any kind or promotion will be removed and the user banned. Final decision will be at the discretion of the Taipei Times.