Prosecutors arrest 13 following army graft investigation
Prosecutors have arrested 13 people, including four army personnel, in a major graft case involving members of the military allegedly receiving regular monthly bribes and kickbacks from contractors in exchange for procuring contracts for tanks and armored vehicles.
The New Taipei City District Prosecutors' Office yesterday detained Staff Sergeant Chang Lung-sheng (張曨升) and civilian contractor Tseng Shih-feng (曾世鋒) and they were held incommunicado.
Tseng, a sales manger at Yi Chih Co (益志公司), which along with Min Chang Machinery Co (敏昌機械公司), both located in New Taipei City, have been the main suppliers of steel-plated treads for armored vehicles at army production and service units, with total business contracts worth NT$1.5 billion (US$47.73million) over the past five years.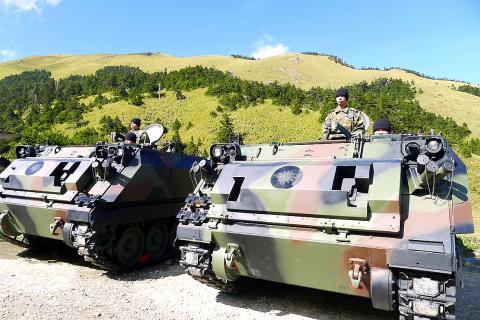 Two domestically-manufactured CM-21 armored vehicles participate in military exercises in this undated photograph.
Photo: Lo Tien-pin, Taipei Times
Upon being questioned by prosecutors, Tseng allegedly admitted to having supplied "bad quality treads" to the Army Logistics Command in Taipei's Nankang District (南港).
The procurement of the treads also involved the Ordnance Readiness Development Center (ORDC) in Jiji Township (集集), Nantou County, which is known for its production of the CM-12 and CM-11 "Brave Tiger" tanks, along with CM-21 armored vehicles and the CM-32 "Clouded Leopard" Taiwan Infantry Fighting Vehicle.
"This graft scandal is another embarrassment for the military. They took bribes to outfit the tanks and military vehicles with inferior treads that break easily, get tangled up or stuck in rough terrain," a prosecutor was quoted as saying.
"In time of war, our nation's vaunted 'Brave Tiger' tanks and 'Clouded Leopard' armored vehicles would be rendered immobile and become easy targets for the enemy," he added.
Prosecutors arrested the 13 suspects on Wednesday and, after questioning, seven were released yesterday after posting bail ranging from NT$20,000 to NT$100,000.
Captain Lee Ching-hsiang (李璟翔), Sergeant Major Wang Chun-yen (王俊彥), who both serve at the ORDC, along with procurement Chief Officer Hsueh Hui-chen (薛惠珍) of Army Logistics Command were among those arrested and questioned on Wednesday.
Head Prosecutor Wang Cheng-hao (王正皓) said military vehicle equipment and parts suppliers needed to pass certification and standard testing at the ORDC.
"These two companies obtained the certification by bribing the military officials in charge of the standards testing. Then they follow up by paying regular bribes and kickbacks to secure the contracts," Wang said.
A spokesperson for the prosecutors' office said sales personnel at Yi Chih and Min Chang made regular payments of up to NT$80,000 each month to the military officials in charge of armored vehicle parts procurement.
The two companies reportedly secured contracts to supply parts and materials for the military's armored vehicles worth about NT$1 billion in the past two years and NT$1.5 billion in the past five years.
The companies also allegedly paid kickbacks of up to NT$100,000 for each contract. In addition, the companies treated the military personnel at upscale nightclubs, where sexual services were proffered by female hostesses, prosecutors said.
The Ministry of National Defense yesterday issued a statement saying that it would cooperate with the investigation and had formed a task force to identify any other possible instances of corruption in the military.
Comments will be moderated. Keep comments relevant to the article. Remarks containing abusive and obscene language, personal attacks of any kind or promotion will be removed and the user banned. Final decision will be at the discretion of the Taipei Times.