US tariffs add to solar cell makers worries: analyst
The nation's solar cell makers will face greater pressure to make a profit amid falling prices as they now have to pay duties on US imports after the US International Trade Commission (ITC) voted that solar products made in Taiwan and China have hurt US producers, TrendForce Corp (集邦科技) said yesterday.
The ITC's determination was in favor of a complaint filed by the US arm of German solar cell maker SolarWorld AG, which requested that the US government close a loophole that allows Chinese solar module makers to circumvent import tariffs imposed in 2012.
The final ruling also gave the go-ahead to the US Department of Commerce to impose anti-dumping duties on Taiwanese firms, ranging from 11.45 percent to 27.55 percent.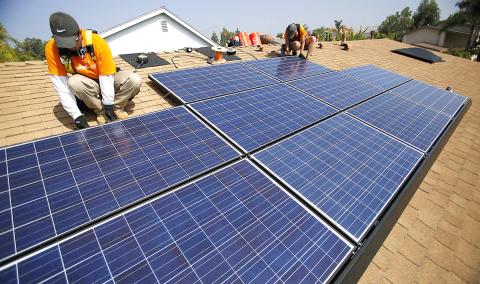 Vivint Solar technicians install solar panels on the roof of a house in Mission Viejo, California, in this file photo taken October 25, 2013. The U.S. International Trade Commission said on Wednesday imports of solar products from China and Taiwan injure U.S. producers, clearing the final hurdle for import duties on the goods.
Photo: Reuters
"[The] ICT's decision confirms that Taiwan is dumping solar goods on the US market," TrendForce solar industry analyst Corrine Lin (林嫣容) said in a report yesterday. "Factoring the levy of import duties, Taiwanese solar cell makers are expected to see their gross margin drift into negative territory as solar prices will fall further to below the break-even point. Their Chinese customers continue to ask for price cuts."
Lin expects solar cell prices to drop from US$0.31 per watt.
Motech Industries Inc (茂迪), the nation's biggest solar cell maker, will face a 11.45 percent antidumping tariff, the lowest among its peers.
Win Win Precision Technology Co (有成精密), a solar system installation firm, said that it was "extremely disappointed about the ITC's decision to impose antidumping duties. This will deal a blow to Taiwan's solar industry."
"Due to unfavorable import tariffs and seasonal slow demand, local companies will have lower order visibility for the next few months. The first quarter will be a sluggish season for them, a worse than seasonal period," Lin said.
China's top solar module makers, Trina Solar Ltd (天合光能) and ReneSola Ltd (昱輝陽光), have a secure stable supply of solar cells from other nations to sidestep the US' duties, which has curtailed demand for Taiwanese products, Lin said.
"Chinese solar companies have been well-prepared for the ICT's determination. They have improved their manufacturing costs and are ready to ship more solar modules to the US," Lin said.
These changes to the market would likely drive out some small-scale local companies this year, Lin said.
In addition, leading firms might seek to weather the downturn via mergers and they might also step up overseas manufacturing to avoid US import tariffs, she said.
Local solar wafer makers would likely see prices down at a record low, Lin said.
Green Energy Technology Inc (綠能科技), the nation's largest solar wafer maker, last year unveiled a partnership with solar module maker Gintech Energy Corp (昱晶) to make solar modules in Mexico via its parent company, Tatung Co (大同).
Motech and Gintech shares fell 1.74 percent and 1.15 percent respectively yesterday to close at NT$42.25 and NT$21.55. Neo Solar Power Corp (新日光) shares were unchanged at NT$27.35.
Comments will be moderated. Keep comments relevant to the article. Remarks containing abusive and obscene language, personal attacks of any kind or promotion will be removed and the user banned. Final decision will be at the discretion of the Taipei Times.