Three people on CDC list exhibit flu-like symptoms
The Centers for Disease Control (CDC) yesterday said that three of the more than 200 people placed on a monitoring list in response to an ongoing avian influenza outbreak have shown flu-like symptoms.
"As of this morning [yesterday] a total of 234 poultry farm workers and epidemic prevention personnel have been put on the list, including 94 employees from a layer chicken farm on Pingtung County's Dawu Mountain (大武山) and 140 workers at six duck or goose farms in southern Taiwan," CDC Deputy Director-General Chuang Jen-hsiang (莊人祥) said.
Chuang said that of these 234 people, three have exhibited flu-like symptoms, including a sore throat, coughing and a stuffy nose, adding that the centers have taken samples from the trio for testing, the results of which are expected today.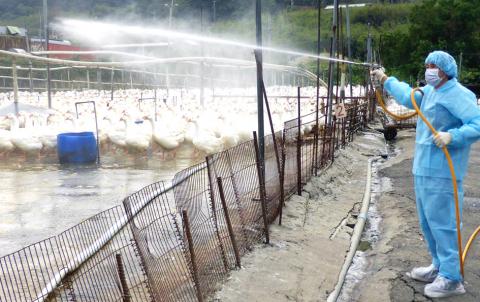 A health worker disinfects the Bali Geese Farm in New Taipei City yesterday after two strains of avian influenza were discovered for the first time in Taiwan.
Photo: EPA
Although there are no known cases of avian influenza virus subtypes H5N2 and H5N8 having jumped the species barrier to infect humans, Chuang said that since it is the first time that the H5N8 strain has been detected in the nation, the centers want to draw blood from people who may have been exposed to the strain to evaluate its potential effects on humans.
"Nevertheless, since it is now the peak season for influenza and adenovirus infections, the trio's symptoms could have nothing to do with the avian flu outbreak and the public is urged not to panic," Chuang said.
The centers advised people to refrain from purchasing or rearing unknown species of poultry; to ensure that chicken and eggs are fully cooked before consumption; and to thoroughly clean all cooking utensils used to prepare food after use.
Comments will be moderated. Keep comments relevant to the article. Remarks containing abusive and obscene language, personal attacks of any kind or promotion will be removed and the user banned. Final decision will be at the discretion of the Taipei Times.