Missing AirAsia jet sought in Java Sea as relatives wait
International search planes and ships scouring Indonesian waters for a missing AirAsia plane yesterday focused on a patch of oil for possible clues, as a top official warned that the aircraft was likely at the bottom of the sea.
Australia, Singapore and Malaysia joined the Indonesia-led search as relatives waited for news of their loved ones more than a day after Flight QZ8501 disappeared over the Java Sea on Sunday with 162 people on board.
The Airbus A320-200 lost contact en route from Surabaya in Indonesia's Java Island to Singapore after the crew requested a change of flight plan due to stormy weather, in the third crisis to hit a Malaysian carrier this year.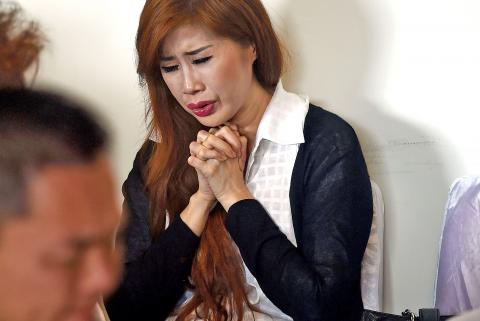 A relative cries at Juanda International Airport's crisis center in Surabaya, Indonesia, yesterday during a briefing on missing AirAsia Flight QZ8501.
PHOTO: AFP
Indonesian Air Force spokesman Hadi Tjahjanto told reporters that the search was now concentrated on an oil patch spotted off Belitung Island in the Java Sea.
"We are making sure whether it was avtur [aviation fuel] from the AirAsia plane or from a vessel because that location is a shipping line," he said.
Indonesian Vice President Jusuf Kalla said an object spotted at sea was not from the plane.
"The government will not give up and is not giving a time limit for the search," he said.
Indonesian National Search and Rescue Agency (Basarnas) chief Bambang Soelistyo earlier said it was likely that the plane was at the "bottom of the sea."
The hypothesis is "based on the coordinates given to us and evaluation that the estimated crash position is in the sea," Bambang Soelistyo told journalists.
Intan, 28, said Indonesia needed overseas help to find the plane that was carrying her brother and his family and friends.
"My hope is Indonesia seeks as much help as possible from other countries. Don't claim: 'We have sophisticated technology,' just ask other countries because they are better equipped," she said, as Jakarta welcomed offers of help.
Comments will be moderated. Keep comments relevant to the article. Remarks containing abusive and obscene language, personal attacks of any kind or promotion will be removed and the user banned. Final decision will be at the discretion of the Taipei Times.