Search for missing airplane delayed
WEATHER ISSUES: An Indonesian transport ministry official said the pilot asked to ascend to avoid heavy clouds just before controllers lost contact with the airplane
Rescuers were scouring the Java Sea yesterday for an AirAsia plane carrying 162 people that went missing in bad weather en route from Indonesia to Singapore, in the third crisis for a Malaysian carrier this year.
Indonesian air force jets had yet to find any signs of the Airbus A320-200 when the search was halted at nightfall.
"We ended at 5:30pm because it was getting dark," the Indonesian Ministry of Transport said.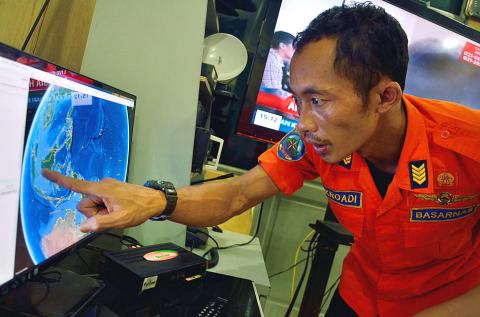 A search and rescue official in Medan, Indonesia, yesterday points at a computer screen, indicating the area where AirAsia flight QZ8501 went missing.
Photo: AFP
"The weather was also not too good, as it was getting really cloudy," transport ministry official Hadi Mustofa told reporters. "Tomorrow [today] we will begin at 7am, or even earlier than that if the weather is good."
Air traffic controllers lost contact with the twin-engine aircraft about an hour after it left Juanda International Airport in Surabaya in east Java at 5:20am.
Shortly before disappearing, AirAsia said the plane had asked permission from Jakarta air traffic control to deviate from its flight plan and climb above bad weather in an area noted for severe thunderstorms.
The airline said 156 of those on board Flight QZ8501 were Indonesians, with three South Koreans and one person each from Singapore, Malaysia and France.
Britain later said one of its citizens was on the jet. It was not yet confirmed whether the person had dual nationality.
There were 138 adult passengers, 16 children and an infant, in addition to five cabin crew and the pilot and copilot, who is believed to be French.
Taiwan's Civil Aeronautics Administration (CAA) confirmed the missing flight does not have any Taiwanese passenger on board. The administration said the flight belongs to AirAsia Indonesia of the AirAsia Group, which does not offer flights in Taiwan.
The aircraft is operated by AirAsia Indonesia, a unit of AirAsia, which is based in Malaysia.
AirAsia Malaysia and AirAsia X, which belong to the same group, are registered budget airlines in Taiwan, the administration said, adding that they offer flights between Taipei and Kuala Lumpur as well as between Taipei and Kota Kinabalu.
Two Indonesian Air Force planes and a helicopter were searching the waters around the islands of Bangka and Belitung in the Java Sea, near Kalimanten island, officials said.
A Singaporean C-130 military transport aircraft was also deployed, after Indonesia accepted help from its Southeast Asian neighbor, while Malaysia said it had committed "military assets" to the search.
AirAsia's flamboyant boss Tony Fernandes, a former record industry executive who acquired the then-failing airline in 2001, said he was on his way to Surabaya, where most of the passengers are from.
"My only thought[s] are with the passengers and my crew," he said on Twitter.
Panicked relatives gathered at Singapore's Changi airport. In Surabaya, hundreds of Indonesians descended on the terminal, hoping for news of the missing jet.
A 45-year-old woman told reporters that she had six family members on the plane.
"They were going to Singapore for a holiday," she said. "They have always flown with AirAsia and there was no problem. I am very worried that the plane might have crashed."
Indonesian President Joko Widodo said his nation was "praying for the safety" of those on board.
An official from Indonesia's transport ministry said the pilot asked to ascend by 6,000 feet (1,829m) to 38,000 feet to avoid heavy clouds.
"The plane is in good condition, but the weather is not so good," Djoko Murjatmodjo told a press conference at Jakarta's airport, addressing reports of severe storms in the area where the jet went missing.
Additional reporting by Shelley Shan
Comments will be moderated. Keep comments relevant to the article. Remarks containing abusive and obscene language, personal attacks of any kind or promotion will be removed and the user banned. Final decision will be at the discretion of the Taipei Times.