Hong Kong tycoon, former deputy head jailed for corruption
Hong Kong property tycoon Thomas Kwok (郭炳江) and the territory's former deputy leader were jailed for corruption yesterday after a trial that shocked the territory and deepened anger at cosy ties between officialdom and big business.
Former Hong Kong chief secretary Rafael Hui (許仕仁), 66, was jailed for seven-and-a-half years on five graft charges, including misconduct in public office — making him the highest-ranking official in Hong Kong's history to be found guilty of taking bribes.
Kwok, 63 — who was joint chairman of the territory's biggest property company, Sun Hung Kai Properties Ltd (新鴻基地產) — was sentenced to five years after he was found guilty of conspiracy to commit misconduct in public office over a series of payments totaling HK$8.5 million (US$1.1 million) made to Hui.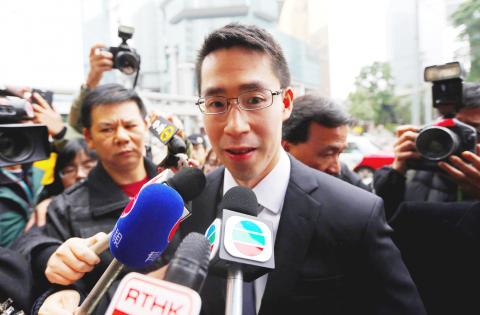 Adam Kwok, son of former Sun Hung Kai Properties joint chairman Thomas Kwok, leaves a court after his father was sentenced to five years in jail for corruption in Hong Kong yesterday.
Photo: AFP
The seven-month trial centered around a total of HK$34 million in handouts, which the prosecution said were made to Hui by Kwok and his billionaire brother, Raymond Kwok (郭炳聯), to be their "eyes and ears" in government.
Raymond Kwok was cleared of all charges and Thomas Kwok cleared of two out of the three against him.
Hong Kong is seen as relatively graft-free — it was ranked the joint-15th cleanest country or territory last year by watchdog Transparency International.
"To know that the former No. 2 in government had received bribes must be a deep disappointment to many people in Hong Kong," Judge Andrew Macrae said. "It is vitally important in these times that the Hong Kong government and business community remain — and are seen to remain — corruption-free, particularly when the mainland is taking obvious and positive steps to eradicate the cancer of corruption in their own jurisdiction."
He said Hui was "blinded by the desire to sustain the high life."
Prosecutors said Hui enjoyed an extravagant standard of living that far outstripped his official salary. He was also found guilty on charges relating to the use of luxury apartments rent-free and accepting unsecured loans.
Hui, who is married, admitted spending at least HK$7 million on a mistress in Shanghai, who he bought properties for as well as making investments on her behalf, according to local media reports. He also bought her bags, watches and other presents.
Hui was ordered to pay a fine of HK$11.182 million — the sum of one of the payments he was found guilty of receiving. He was given nine months less than the maximum sentence considered by the judge because of his good character and "lifetime" contribution to society.
In sentencing Thomas Kwok, Macrae said he had no doubt that he was "at heart a good man."
He said he had considered a maximum sentence of six years, but handed down a year less to account for Kwok's good character.
Kwok was fined HK$500,000 and disqualified from any company directorship for five years after resigning from Sun Hung Kai on Friday last week.
With soaring property prices and stagnant wages, there is rising anger at a lack of opportunity for ordinary Hong Kongers.
"Members of the public have had a perception of business-government collusion for some time," Hong Kong Institute of Education political analyst Sonny Lo (盧兆興) said. "This case proves that such public perception has some validity."
Comments will be moderated. Keep comments relevant to the article. Remarks containing abusive and obscene language, personal attacks of any kind or promotion will be removed and the user banned. Final decision will be at the discretion of the Taipei Times.