North Korean Web sites back online after outage
Key North Korean Web sites were back online yesterday after a nearly 10-hour shutdown that followed a US vow to respond to a crippling cyberattack on Sony Pictures which Washington blamed on Pyongyang.
It was not immediately clear what caused the Internet stoppage in one of the least-wired and poorest countries in the world, but outside experts said it could be anything from a cyberattack to a simple power failure.
The White House and the US Department of State declined to say whether the US government was responsible.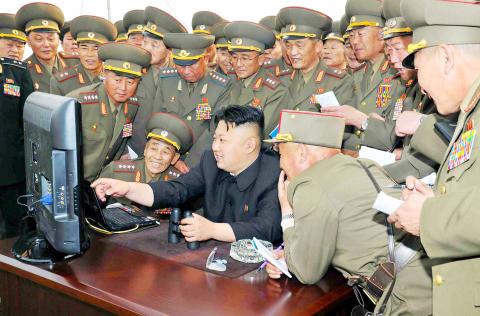 An undated photograph released by the Korean Central News Agency on April 27 shows North Korean leader Kim Jong-un, center, looking at a computer as he inspects an artillery sub-unit drill at an undisclosed place in North Korea.
Photo: AFP / KCNA via KNS
Even if a cyberattack had caused the shutdown, analysts said, it would largely be symbolic since only a tiny number of North Koreans are allowed on the Internet — a fraction of Pyongyang's staunchly loyal elite, as well as foreigners.
Though it denies responsibility for the Sony hack, the North Korean government has called it a "righteous deed" and made clear its fury over Sony's film The Interview, a comedy that depicts the assassination of North Korean leader Kim Jong-un.
South Korean officials, speaking on condition of anonymity because of office rules, said the North's Korean Central News Agency and the Rodong Sinmun, which are the main channels for official North Korean news, had both gone down, but the Web sites were back up later yesterday.
US computer experts described the Internet outage in North Korea as sweeping and progressively worse. Jim Cowie, chief scientist at Dyn Research, an Internet performance company, said in an online post that the North came back online after a nine-and-a-half-hour outage.
Possible causes for the shutdown include an external attack on its fragile network or even just power problems, Cowie wrote, adding: "We can only guess."
The outage was probably more inconvenient to foreigners, who can access the Internet through 3G networks, than to North Korean residents, most of whom have never gone online.
There are only about 1,000 Internet Protocol addresses in North Korea for a population of 25 million, South Korean analysts said.
Comments will be moderated. Keep comments relevant to the article. Remarks containing abusive and obscene language, personal attacks of any kind or promotion will be removed and the user banned. Final decision will be at the discretion of the Taipei Times.