Ting Hsin made political donations, Clara Chou says
Media personality Clara Chou (周玉蔻) yesterday alleged that Ting Hsin International Group (頂新國際集團) had donated NT$200 million (US$6) in cash under the table as a political donation, but did not specify whether it was made to the Chinese Nationalist Party (KMT) or the government.
The KMT responded by saying that it would take legal action if Chou failed to clarify the issue within a week.
Chou's allegation came on the heels of KMT Legislator Alex Tsai's (蔡正元) revelation on Wednesday that KMT Deputy Secretary-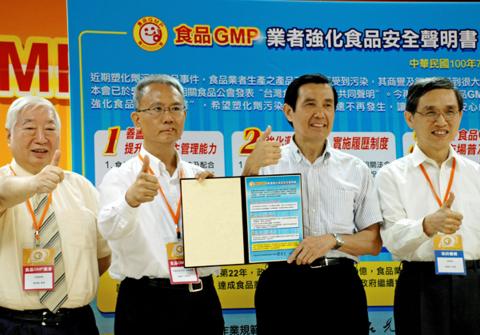 President Ma Ying-jeou, second right, and Ting Hsin International Group executive Wei Ying-chun, second left, do the thumbs-up sign in an undated photograph.
Photo: CNA
General Lin Teh-jui (林德瑞) had urged KMT Taipei mayoral candidate Sean Lien (連勝文) to go easy on the scandal-ridden food corporation during Lien's campaign.
Claiming that Ting Hsin had made off-the-books donations, Chou said the information was from a former top national security official, and called on President Ma Ying-jeou (馬英九) and National Security Council Secretary-General King Pu-tsung (金溥聰) to clarify the situation. She added that having a government spokesperson negate those claims would be far from sufficient.
Presidential Office spokesperson Ma Wei-kuo (馬瑋國) denied the accusation that the president was a "gatekeeper" for the food giant earlier yesterday, responding to remarks by Tsai and another KMT legislator, Hsieh Kuo-liang (謝國樑), who also claimed on a radio show on Wednesday that the Presidential Office had a "burden" and "could not act freely since gifts had been received."
Hsieh amended his statement yesterday, saying that he had no proof and that it was a "hypothesis" he arrived at due to the government's failure to act aggressively against the corporation.
Lin rebutted Chou's accusation, saying that President Ma's campaign had not received any donations from Ting Hsin, nor had the KMT between 2008 and last year.
Wei Ying-chun (魏應充), former chairman of Wei Chuan Foods Corp (味全食品工業) — a Ting Hsin subsidiary, was a member of a "fan club for Ma and Wu" — that is, Vice President Wu Den-yih (吳敦義) — composed of business group representatives during the 2012 presidential election campaign.
KMT Culture and Communication Committee director Fan Chiang Tai-chi (范姜泰基) accused Chou of spreading rumors and deliberately overlooking the clarification issued by the party.
Fan said that the false accusation has severely damaged the KMT's reputation, and demanded that Chou publicly reveal within a week the name of the person who made the bribery claim, or the party would take legal action against her.
Former Presidential Office deputy secretary-general Lo Chih-chiang (羅智強) also asked Chou to stop the allusion game, as Chou yesterday also alleged that he had received benefits from Ting Hsin.
Lo denied the accusation and urged Chou to be straightforward and come out from behind her "legal firewall."
Comments will be moderated. Keep comments relevant to the article. Remarks containing abusive and obscene language, personal attacks of any kind or promotion will be removed and the user banned. Final decision will be at the discretion of the Taipei Times.