Capital gains tax could be put off for three years
LAST GASP EFFORT: The finance minister and FSC chairman agreed to keep the threshold, but delay it for three years as 'the last breath for fair taxation'
The legislature's Finance Committee yesterday kept the taxable hurdle unchanged for active stock traders, but pushed back its implementation from next year to 2018, as all parties struggled to strike a balance between fair taxation and invigorating the capital market.
The decision, which still needs second and third readings to become legally binding, disappointed the local bourse, which closed down 1.37 percent, or 122.55 points, at 8,828.36, with a relatively large turnover of NT$105.73 billion (US$3.37 billion), Taiwan Stock Exchange (TWSE) data showed.
Minister of Finance Chang Sheng-ford (張盛和) and Financial Supervisory Commission Chairman William Tseng (曾銘宗) agreed on a three-year moratorium after some bargaining to save what Chang called "the last breath for fair taxation."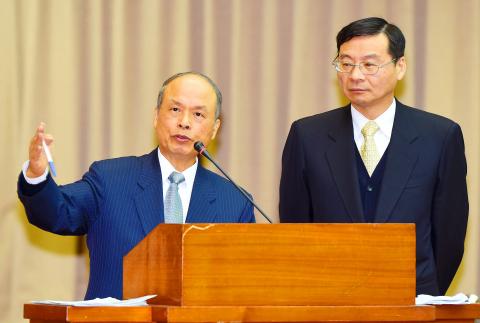 Minister of Finance Chang Sheng-ford, left, says he gets along well with Financial Supervisory Commission Chairman William Tseng, right, during a question-and-answer session at the legislature in Taipei yesterday.
Photo: Liao Chen-huei, Taipei Times
The "active trader" clause is part of the income tax law under which individual investors who sell more than NT$1 billion of local shares a year have to pay either a 15 percent tax on stock gains or an extra 0.1 percent tax on transactions in excess of the threshold.
"Let time judge if the clause is really in need of revision... It is better to leave it intact for the time being," Chang said.
According to the ministry, only 1,243 individual players would meet the threshold and 47 percent currently pay income taxes of less than NT$25,000 a year, accounting for a tiny 5 percent of gains.
About 7 percent do not pay any income tax at all, at odds with the principle of fair taxation, Chang said, without elaboration.
The clause, if it goes into effect, could generate an extra NT$1.49 billion in tax revenue a year, Chang said.
The contribution is limited, but critical in advancing the spirit of social justice and fairness, he said.
Tseng acquiesced to a respite, although he earlier voiced support for bills to scrap the clause altogether.
The introduction of daily trade this year makes it easier to meet the threshold, driving active traders to flee the market, as evidenced by the sluggish trading between September and last month, Tseng said earlier.
Stock trading recovered some momentum this month on expectations of more favorable tax revisions, he said yesterday, warning that the national treasury would suffer NT$70 billion of losses in stock transaction taxes, more than muting extra income taxes paid by active traders.
"We have tried our best, although the final outcome may not live up to the expectations of many," Tseng wrote on Facebook at 3pm.
The TAIEX fell to its lowest point in a month, 8,828.36, on learning of the decision at 1:15pm, TWSE data indicated.
The cautious sentiment may worsen as the central bank is due to meet today, as is the US Federal Reserve, amid the additional impact of profit-taking of transportation plays and settlement of futures investments, analysts said.
The Taiwan Securities Association (證券公會) said the three-year moratorium is not satisfactory, but acceptable.
The group urged the legislature to scrap the capital gains tax in the following three years, saying stock transaction taxes meet the purposes of fair taxation.
Comments will be moderated. Keep comments relevant to the article. Remarks containing abusive and obscene language, personal attacks of any kind or promotion will be removed and the user banned. Final decision will be at the discretion of the Taipei Times.