One of 43 missing students identified
Fears that 43 Mexican students missing since September were slaughtered by a police-backed gang have risen after one of the young men was identified among charred remains found in a landfill.
Authorities sent burned remains to an Austrian medical university last month after a police-backed gang confessed to killing the students and incinerating their bodies in the southern state of Guerrero.
The Mexican attorney general's office yesterday scheduled a news conference to discuss the case, but an official confirmed to reporters that one set of remains was identified as a missing trainee teacher.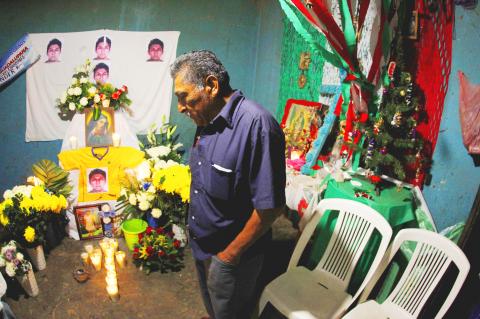 Ezequiel Mora, father of Alexander Mora, stands in front of an altar with pictures of his son yesterday at his house in El Pericon, Guerrero, Mexico.
Photo: Reuters
The body's identification was confirmed by a spokesman for the families at a new protest on Saturday over the case in Mexico City, where thousands waved black flags and called for Mexican President Enrique Pena Nieto's resignation.
Family spokesman Felipe de la Cruz said that, despite the information, relatives would continue searching for the 42 others.
The parents have rejected claims the students were killed, demanding that the government find them alive, while conducting independent searches around Guerrero.
"If they think that we will start to cry over the fact that one of our boys matches with DNA, they are wrong," de la Cruz told the crowd. "We will find the other 42."
The victim was identified as Alexander Mora, one of the students from the Ayotzinapa teachers college in Guerrero.
Comments will be moderated. Keep comments relevant to the article. Remarks containing abusive and obscene language, personal attacks of any kind or promotion will be removed and the user banned. Final decision will be at the discretion of the Taipei Times.