North Taiwan hit by cold snap, typhoon could bring rain
The mercury in northern Taiwan is forecast to drop to 10°C today due to the arrival of a large cold air mass, the Central Weather Bureau said yesterday.
The bureau said temperatures in Tamsui District (淡水) in New Taipei City and Sinwu Township (新屋) in Taoyuan County yesterday dropped to 11.6°C and 11.7°C respectively.
Taipei recorded the lowest temperature this winter so far, hitting 12.6°C, it added.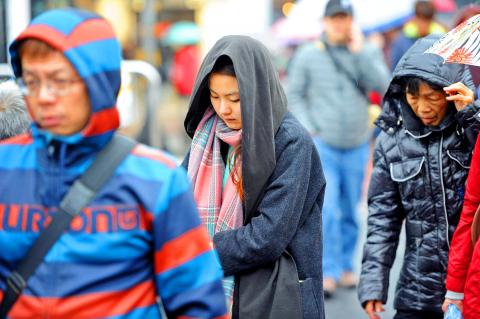 People bundle up as a cold air mass hit northern Taiwan yesterday. Temperatures are forecast to drop as low as 10°C today.
Photo: CNA
The bureau warned that people living in Yilan or anywhere north of Miaoli could experience temperatures as low as 10°C today.
The bureau also said that Typhoon Hagupit has increased in strength and could bring some long-awaited rain to the nation.
At press time last night, Hagupit's center was 1,790km southeast of Oluanpi (鵝鑾鼻). The typhoon was moving northwest at 15kph.
Based on the bureau's forecast, the typhoon is set to move across the central region of the Philippines before entering the South China Sea.
The bureau said that the typhoon is still gaining power because of relatively high sea temperatures.
Cheng Ming-dean (鄭明典), director of the bureau's Weather Forecast Center, said on Facebook that the eye of Hagupit can be clearly seen, adding that it has a solid eye wall, indicating a strong typhoon.
Cheng said that Hagupit's path could change because of colder weather in the north, which could limit the growth of its strength.
The bureau said the typhoon could bring some rain to Taiwan if its path changes slightly after it enters the South China Sea, adding that more time is needed before its path can be confidently plotted.
Comments will be moderated. Keep comments relevant to the article. Remarks containing abusive and obscene language, personal attacks of any kind or promotion will be removed and the user banned. Final decision will be at the discretion of the Taipei Times.