HK Occupy trio turn selves in; others continue protests
The founders of Hong Kong's pro-democracy Occupy Central movement surrendered to police yesterday in a symbolic move, as they try to take the territory's pro-democracy protests off the streets after more than two months of rallies.
Dozens of supporters carrying yellow umbrellas shouted: "I want true democracy without fear" and surrounded the trio as they turned themselves in at a police station.
However, academics Benny Tai (戴耀廷) and Chan Kin-man (陳健民), and Baptist minister Chu Yiu-ming (朱耀明) quickly emerged from the station, saying they had not been arrested, despite admitting to "participating in unauthorized assembly."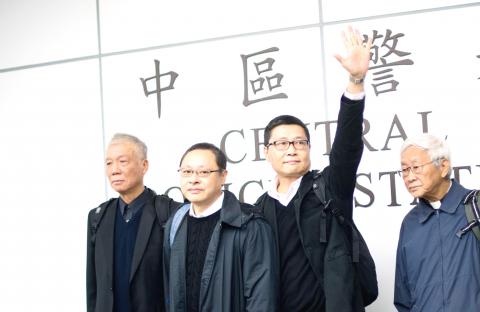 Occupy Central leaders Chu Yiu-ming, Benny Tai and Chan Kin-man, and Cardinal Joseph Zen, left to right, come out of a police station in Hong Kong after 'surrendering.'
Photo: AFP
Tai told reporters there were "political considerations" behind their swift release, but said it was inevitable that they would be arrested and perhaps prosecuted.
The three were joined by 82-year-old Cardinal Joseph Zen (陳日君), a prominent pro-democracy supporter, who also gave himself up.
About 40 supporters also lined up to fill out forms turning themselves in. Police said 24 people had surrendered as of yesterday afternoon.
Tai said Occupy would now take a different approach to promoting democracy, including through education and a new social charter.
Meanwhile, Hong Kong Chief Executive Leung Chun-ying (梁振英) rejected a student request for a meeting to discuss the possible relaunch of the political reform process.
"There is no room legally to relaunch political reform," Leung's office said. "Any illegal or confrontational action to express views on political reform will be in vain."
Despite the call to retreat, teen protest leader Joshua Wong (黃之鋒) and two fellow students who are on a hunger strike vowed to continue "suffering pain for justice."
Meanwhile, the Chinese Ministry of Foreign Affairs panned British lawmakers' bid to visit Hong Kong after China denied them visas.
"Some people from the British side attempt to use the so-called moral obligation to mislead the public and interfere in China's domestic affairs," ministry spokeswoman Hua Chunying (華春瑩) told a regular briefing.
During a rare emergency debate in which British parliamentarians urged London to take a tougher line with China, British Minister of State for the Foreign and Commonwealth Office Hugo Swire called the ban "wholly unjustified," but stressed the need to "pursue dialogue in issues even when we disagree."
The committee is investigating Britain's responsibilities under the Sino-British Joint Declaration, the 1984 treaty that established procedures for the handover.
Swire told parliament the UK had "both a legal interest and a moral obligation in the monitoring and implementation" of the agreement.
However, Hua said that "following the return of Hong Kong, Britain has no sovereignty, no administrative power and no right of supervision over Hong Kong. There is no such thing as a 'moral obligation.'"
Comments will be moderated. Keep comments relevant to the article. Remarks containing abusive and obscene language, personal attacks of any kind or promotion will be removed and the user banned. Final decision will be at the discretion of the Taipei Times.