Vice Premier Mao set to replace Jiang
'OLD WINE, NEW BOTTLE': DPP and KMT members were disappointed with the decision, saying Mao was more of the same, having been in Ma's administration since 2008
President Ma Ying-jeou (馬英九) yesterday named Vice Premier Mao Chi-kuo (毛治國) as head of the Cabinet after Premier Jiang Yi-huah (江宜樺) resigned in the wake of the ruling Chinese Nationalist Party's (KMT) rout in the nine-in-one elections on Saturday.
Mao has been vice premier for a year and 10 months, meaning he is familiar with government affairs, a trait that will help make his takeover seamless and stabilize the Cabinet, Presidential Office spokesperson Ma Wei-kuo (馬瑋國) said yesterday.
Mao is set to become the fifth premier in Ma's more than six-year tenure. He has worked in the Ma Ying-jeou administration since the president took office in May 2008, starting as minister of transportation and communications before being promoted to vice premier in February last year.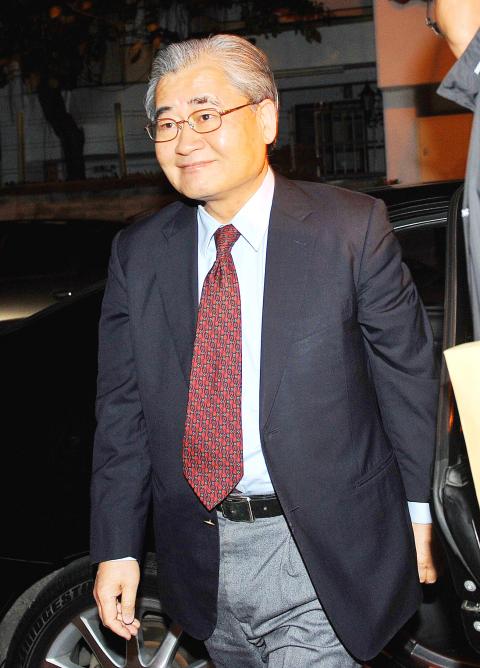 Vice Premier Mao Chi-kuo arrives at an event held by Premier Jiang Yi-huah to discuss the Fourth Nuclear Power Plant on March 25 last year.
Photo: Chien Jung-fong, Taipei Times
Democratic Progressive Party (DPP) Legislator Chen Ting-fei (陳亭妃) was unimpressed by the choice, asking if there was no other capable person that could be chosen for the role.
"In Mao, all we see is another one of Ma's [Ying-jeou] puppets," Chen said.
Fellow DPP Legislator Pasuya Yao (姚文智) shared the view, saying: "This is old wine in a new bottle. Mao's time as a minister was not without controversy and as vice premier — a role in which he is meant to double as the convener of the Executive Yuan's food safety task force — he has been incompetent."
KMT Legislator Chiang Hui-chen (江惠貞) also voiced doubts about Mao's appointment, saying it was "understandable ... if continuity is all that matters, but from the perspective of political stability, it might require a second thought."
Other legislators apparently also feel that Mao is not the best candidate for the job, since, as of Tuesday, 33 KMT lawmakers and one independent have signed a petition urging Ma Ying-jeou to nominate Central Bank Governor Perng Fai-nan (彭淮南) instead.
KMT Legislator Lee Ching-hua (李慶華) initiated the signature drive on Monday and garnered 34 lawmakers' signatures within 24 hours, mostly from members of his party.
Lee said that Perng is not only renowned for his financial expertise and determined leadership domestically, he has also won plaudits abroad, citing the 11 "A" ratings that Global Finance magazine has given Perng for being — according to the publication — one of the world's best central bank heads.
"President Ma should go see Perng and ask him earnestly to be the next premier," Lee said.
DPP caucus whip Ker Chien-ming (柯建銘) said he had no objection to Lee's suggestion, but added that he deemed it highly unlikely that Perng would agree.
This is not the first time that Perng has been named as an ideal candidate for premier.
However, he has said before that his role as central bank governor would be his last in the public sector.
Adding to the dissent were KMT legislators Sun Ta-chien (孫大千), Hsieh Kuo-liang (謝國樑) and Lin Kuo-cheng (林國正), who released a joint statement challenging the decision to install Mao as premier.
The trio praised Mao's capability as a government official, but said he is not the right person to show the Cabinet's determination to make big changes and his selection would not meet the public's expectations.
The three lawmakers said the arrangement would have only a provisional effect in maintaining stability and would fail to regain the public's trust.
"We urge the president to reconsider the appointment," they added.
Meanwhile, it was also reported that Minister of Transportation and Communications Yeh Kuang-shih (葉匡時) and many other Cabinet members are to stay on in their posts with Mao at the helm.
Late last night, Minister Without Portfolio John Deng (鄧振中) was named to replace Minister of Economic Affairs Woody Duh (杜紫軍), whose position would be minister without portfolio, sources said.
Additional reporting by Chung Li-hua
Comments will be moderated. Keep comments relevant to the article. Remarks containing abusive and obscene language, personal attacks of any kind or promotion will be removed and the user banned. Final decision will be at the discretion of the Taipei Times.