HK leader warns Occupy after clashes
Hong Kong Chief Executive Leung Chun-ying (梁振英) yesterday said that ongoing pro-democracy protests were "in vain" after police used pepper spray and batons on students trying to storm government headquarters in some of the worst violence since the rallies began in September.
With the student-led Occupy Central protests now into their third month and frustrations mounting, Leung hinted that further police action may be imminent, in his most forceful recent comments.
"I have pointed out before that Occupy Central is not only illegal, but it will also be in vain," Leung said, describing the continued protests as "intolerable."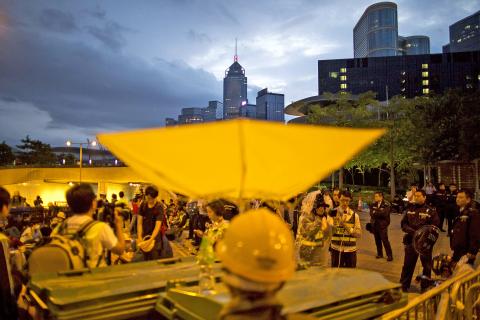 A pro-democracy protester holds a yellow umbrella on Lung Wo Road next to the Hong Kong Chief Executive's Office, part of the territory's Central Government Office complex that demonstrators tried to storm yesterday.
Photo: EPA
"Now the [public] demand for police clearance is increasing. From now on, police will enforce the law without hesitation," he said.
Yesterday afternoon, the Hong Kong High Court granted an injunction ordering the clearance of parts of the major protest site in Admiralty District, according to bus operator Kwoon Chung Bus Holdings, which made the application.
The court approved the removal of "obstructions" to traffic on and around stretches of Harcourt Road, a multi-lane highway through the heart of the financial district currently blocked by barricades and hundreds of tents. Police have previously waited for such injunctions before moving in to clear roads.
A police officer raises his baton at a group of pro-democracy protesters as he restrains a demonstrator on the ground at Tamar, near the government headquarters in the Admiralty district of Hong Kong yesterday.
Photo: AFP
The government offices in Admiralty were closed yesterday morning and the legislature suspended after protesters broke through police lines and occupied a major road outside the complex overnight.
Hong Kong Federation of Students leader Alex Chow (周永康) told reporters that democracy groups would discuss the way forward for the movement in the coming days to decide "whether to advance or retreat."
There was frustration and pessimism in Admiralty yesterday following the clashes.
"We feel a mixture of things: angry, tired, upset. All the emotions are quite negative and tense," student Eppie Chan said.
Police arrested 40 people and 11 officers were injured in the clashes, a spokesman said, while 37 people received hospital treatment.
Authorities said they had "no other choice," but to use pepper spray and batons to force back protesters from the government complex, but some demonstrators said they had been unfairly targeted.
"They [police] are supposed to protect the citizens, not [hurt] us. We saw what they did so we don't trust them any more," account clerk Justin Yan, 22, said.
Others voiced doubts over the direction of the movement.
"The crowd was not prepared for the battle last night ... they were put into a difficult situation and didn't know how to handle it," translator Mayson Ng said. "They [student leaders] don't have a strategy."
The Admiralty site had calmed by the afternoon after a chaotic morning saw protesters at a nearby shopping arcade clash with police.
Protesters began staging mass sit-ins on major roads on Sept. 28, demanding free leadership elections for the territory in 2017. Chinese authorities insist candidates for the election must be vetted by a loyalist committee, which protesters say will ensure the election of a pro-Beijing stooge.
The protests drew tens of thousands in the first weeks, but numbers have dwindled as the movement's leaders struggle to keep up momentum. Frustration is mounting as Beijing refuses to budge on the vetting of candidates, while support for demonstrators has waned among residents weary of the transport disruption.
Comments will be moderated. Keep comments relevant to the article. Remarks containing abusive and obscene language, personal attacks of any kind or promotion will be removed and the user banned. Final decision will be at the discretion of the Taipei Times.