Talks on Iran nuclear deal 'headed to likely extension'
Iran and world powers yesterday looked likely to miss a midnight deadline to agree a long-awaited nuclear deal, with a Western diplomat saying they would agree on an extension and meet again next month.
"Given progress made this weekend, talks headed to likely extension, with experts and negotiating teams reconvening in December at a yet to be determined location," the diplomat said.
As the foreign ministers of Iran and the five permanent members of the UN Security Council plus Germany, the so-called P5+1, went into a meeting in Vienna, it was unclear how long the extension could be.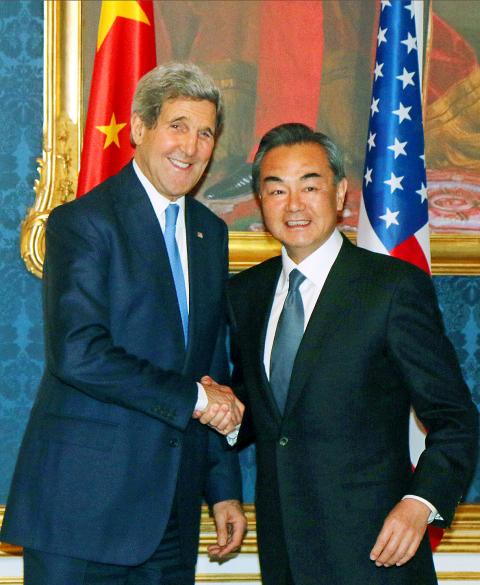 US Secretary of State John Kerry left, and Chinese Foreign Minister Wang Yi shake hands prior to a bilateral meeting of the closed-door nuclear talks with Iran in Vienna, Austria, yesterday.
Photo: AFP
In the best chance in years to resolve the long-running standoff over Iran's nuclear program, the P5+1 have been locked in talks with Iran for months, seeking to turn an interim deal that expired at midnight into a lasting accord.
Such an agreement, after a 12-year standoff, is aimed at easing fears that Tehran would develop nuclear weapons under the guise of its civilian activities, an ambition it strongly denies.
It could see painful sanctions on Iran lifted, silence talk of war and represent a much-needed success for both US President Barack Obama and Iranian President Hassan Rouhani.
A deal could begin a process in which the "relationship, not just between Iran and us, but the relationship between Iran and the world, and the region, begins to change," Obama said in an ABC News interview on Sunday.
However, a last-ditch diplomatic blitz in Vienna in recent days involving US Secretary of State John Kerry and other foreign ministers appeared to have failed to bridge the remaining major differences.
As a result, Iranian and US officials said late on Sunday they had started talking about plan B — the option of putting more time on the diplomatic clock.
"We have discussed an extention, but there is nothing detailed yet," an Iranian source said.
This came after Kerry met his Iranian counterpart Mohammad Javad Zarif for the seventh time since Thursday last week, but again apparently failed to break the deadlock.
Chinese Foreign Minister Wang Yi (王毅) arrived in the Austrian capital early yesterday, completing the lineup of foreign ministers from the six powers.
They included Russian Foreign Minister Sergei Lavrov, a key player in the negotiations whose country has built a nuclear plant in Iran and is planning more.
Russian President Vladimir Putin was due to talk to Rouhani by telephone later yesterday, ITAR-TASS reported.
Diplomats on both sides say that, despite some progress, the two sides remain far apart on the two crucial points — uranium enrichment and sanctions relief.
Enriching uranium renders it suitable for peaceful purposes, such as nuclear power, but also, at high purities, for the fissile core of a nuclear weapon.
Tehran wants to massively ramp up its number of enrichment centrifuges — in order, it says, to make fuel for a fleet of power reactors that it is yet to build.
The West wants them dramatically reduced, a move, which together with more stringent inspections and an export of Iran's uranium stocks, would make any attempt to make a bomb all but impossible.
Iran wants painful UN and Western sanctions that have strangled its vital oil exports lifted, but the powers want to stagger any relief over a long period to ensure Tehran complies with any deal.
In view of the difficulties, many experts have long believed that the negotiators would put more time on the clock.
The terms of last year's interim deal — under which Iran froze some activities and won limited sanctions relief — could be rolled over for a certain period of time.
However, another extension carries risks of its own, including possible fresh US sanctions that could lead Iran to walk away.
It will also fuel accusations from Israel that its archenemy is merely buying time.
Arms Control Association analyst Kelsey Davenport said that any extension "will have to be very short because there are too many hardliners, particularly in Washington and Tehran, that want to sabotage this deal."
Comments will be moderated. Keep comments relevant to the article. Remarks containing abusive and obscene language, personal attacks of any kind or promotion will be removed and the user banned. Final decision will be at the discretion of the Taipei Times.