Ko denounces KMT's 'low-down' attacks
Independent Taipei mayoral candidate Ko Wen-je (柯文哲) yesterday said the Chinese Nationalist Party (KMT) has gone "berserk" over the possibility of losing the election and has hounded the National Taiwan University Hospital (NTUH) for the past six months, culminating in its latest accusation of organ harvesting to undermine the hospital's reputation.
KMT lawmakers yesterday continued their allegations that Ko and the hospital — where Ko used to work before he took a year's leave in February to run for Taipei mayor — had used "unethical methods" to trick district attorneys into issuing death certificates for potential organ donors. The lawmakers alleged that patients who were not yet brain dead were given high doses of phentolamine to cause their hearts to stop beating and then placed on an extracorporeal membrane oxygenation (ECMO) to maintain the viability of their organs for transplant.
Ko said he was furious when he learned of the allegations.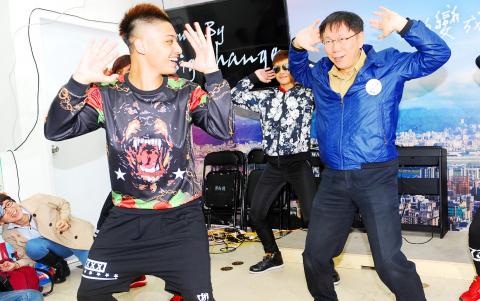 Independent Taipei mayoral candidate Ko Wen-je, right, shows his dance moves in Taipei yesterday for a song touting change as part of his election campaign.
Photo: Chang Chia-ming, Taipei Times
The KMT first accused him of corruption and money laundering using an account set up for the hospital's surgical intensive care unit team, being an organ broker in China and now harvesting organs from live patients, Ko said.
"I guess the next step would be a woman saying her child was mine," he said.
"It seems to me that [the KMT] has waged an election campaign like...," Ko said, stopping short of using profanities. "I know running an election is a task that requires strenuous work, but I've really gotten annoyed with these people."
Running an election means that candidates are scrutinized under a "magnifying glass" by their rivals and by the public, but what has been used in the campaign now is not a magnifying glass, but a "crooked mirror," Ko said.
"Since they have found no fault in Ko Wen-je, they dragged the entire NTUH into the campaign. The NTUH is a national hospital and the last defense in the nation's medical system. During the past half year, how much harassment has it endured just because Ko Wen-je is running in the election?" Ko asked. "I think this is [so-called] killing driven by bloodlust."
In each of the cases involving 26 young people that the KMT lawmakers said were in question, the NTUH did not perform operations without having obtained do-not-resuscitate orders, informed consent in organ donations and consent forms from prosecutors in cases of death unrelated to illness, Ko said.
The hospital has about 600 primary care physicians, and "I am just one of them," Ko said, adding that most patients who expressed a desire to donate their organs for transplant were not assigned to him for primary care.
Regarding the 26 cases, Ko said he was not involved in half of them.
"Were they accusing me or the NTUH? Were they suspicious of all the primary care physicians in the hospital?" Ko said.
Ko said his main rival's camp— that of KMT Taipei mayoral candidate Sean Lien (連勝文) — should speak out against him instead of having KMT lawmakers play tricks which were totally "low-down" under the legislative aegis.
Lee Ying-yuan (李應元), secretary-general of Ko's campaign office and a Democratic Progressive Party member, on Thursday sued a netizen named Pai Yuan (白猿), who posted an article about the accusation on Facebook, for aggravated defamation and use of illegal means to try to prevent a person from being elected.
Later yesterday, Ko said on Facebook that the allegation was made deliberately to "hurt the dignity of medical personnel" for the sake of Lien winning the election, a tactic that would be difficult to forgive after the election is over.
As a physician who specializes in surgery and critical care, Ko said he knows no medical personnel who would discard patients in crisis and their family members for their own benefit.
"The primary concern from the point of view of any medical professional is patient safety," Ko said, urging the public to give words of encouragement to and support for medical personnel and to pay attention to the increasingly harsh working conditions facing medical professionals in the nation.
Meanwhile, the Taipei District Prosecutors' Office yesterday dismissed the need to establish a case to investigate the NTUH based on the allegations, saying that it did not see any irregularities in the process for declaring a patient brain dead or in the organ harvesting operations at the hospital.
Additional reporting by Chien Li-chung
Comments will be moderated. Keep comments relevant to the article. Remarks containing abusive and obscene language, personal attacks of any kind or promotion will be removed and the user banned. Final decision will be at the discretion of the Taipei Times.