Some barricades cleared from Hong Kong protest site
Backed by a court order, workers removed some barricades yesterday from a Hong Kong pro-democracy protest site where activists have camped out for nearly two months in a standoff with authorities.
The workers cut plastic ties holding metal barricades together in an area outside the CITIC Tower office building and then loaded them into a truck.
Student-led protesters, who have been pushing for greater democracy in the former British colony, did not resist. Some had already moved their tents to other parts of the protest zone ahead of the clearing operation, which was observed by dozens of court bailiffs, police officers and reporters.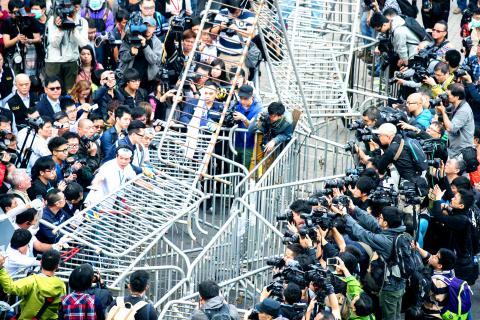 Security staff members remove a barricade outside the CITIC Tower building near a protest site in the Admiralty district of Hong Kong yesterday.
PHOTO: AFP
The protesters oppose the Chinese government's requirement that a panel of Beijing-friendly elites screen candidates in the inaugural 2017 election for Hong Kong's top official.
Chinese authorities have declared the gatherings illegal and neither the Hong Kong government nor the student leaders have shown any willingness to compromise.
Some protesters suspect that the authorities will resort to more court orders to gradually clear out the protest zones after other methods failed.
"Before, they tried to use police to do it. After that, they found triads. Now they're going to use bailiffs and injunctions," said protester Angelo Heung, a 34-year-old freelance art designer. "They're going to use legal principles and court orders, but we still won't be afraid."
On several occasions, police took protesters by surprise as they attempted to dismantle barricades in dawn operations that backfired, drawing more people out into the streets. Groups of masked men who some suspect were members of triads, or organized crime gangs, have also clashed with protesters as they attempted to remove barricades.
The dismantling comes as options run out for the student leaders who have played a key role in organizing the street protests.
Their requests to current and former Hong Kong officials to meet with senior Chinese leaders have fallen on deaf ears and an attempt by three of them to fly to Beijing on Saturday failed when their permits to enter mainland China were canceled.
It is unclear what the students plan next.
Comments will be moderated. Keep comments relevant to the article. Remarks containing abusive and obscene language, personal attacks of any kind or promotion will be removed and the user banned. Final decision will be at the discretion of the Taipei Times.