Space station crew return to Earth after 'flawless descent'
A three-member multinational crew of astronauts yesterday returned to Earth aboard Russia's Soyuz TMA-13M spacecraft, after spending 165 days working together at the International Space Station (ISS), NASA said.
The ISS commander, Russian cosmonaut Maxim Surayev, US astronaut Reid Wiseman and Germany's Alexander Gerst from the European Space Agency touched down at 3:58am.
The three smiled broadly from reclining chairs as medical personnel tended to them amid patches of snow on the barren steppe just northeast of Arkalyk, Kazakhstan, where they landed.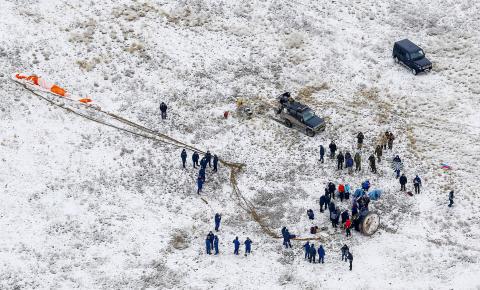 Members of a search-and-rescue team approach the Soyuz TMA-13M capsule containing the International Space Station crew of Alexander Gerst of Germany, Maxim Surayev of Russia and Reid Wiseman of the US after it landed near the town of Arkalyk in northern Kazakhstan yesterday.
Photo: AFP
Surayev flashed a "V for victory" sign while Wiseman pumped his fist as they waited to regain their land legs after nearly six months of weightlessness.
"Everything was in the spirit of cooperation, so I think that everybody needs to learn and follow the example of the ISS crew members," Surayev said.
"Let us try to live together side-by-side. This is the most important thing," he added.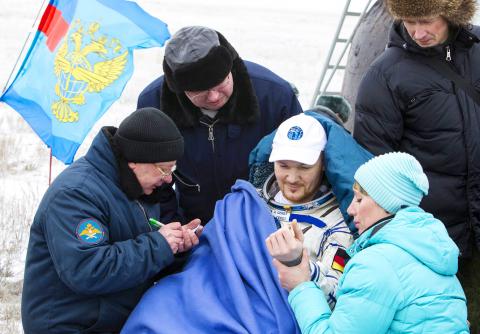 Ground personnel check International Space Station crew member Alexander Gerst of Germany after he and two others landed in a remote area near the town of Arkalyk in northern Kazakhstan yesterday.
Photo: AFP
While in space, the crew traveled more than 112.7 million kilometers, NASA said.
The "bulls-eye" touchdown was executed amid low clouds and fog, "following a flawless descent back into the atmosphere," NASA TV reported.
The US space agency said the "departure of Wiseman, Gerst and Surayev marks the end of Expedition 41," referring to their mission to the ISS to carry out equipment repairs, maintenance and experiments.
Surayev was on his second long ISS mission, having now spent a total of 334 days in space, while the other two astronauts were on their first trip.
The three were pictured smiling and with their arms around each other before hitching a ride back home, undocking from the ISS after midnight.
Another three-person crew remains on the ISS to "continue research and maintenance aboard the station," NASA said, adding that they are to be joined by three more astronauts who are to launch from Kazakhstan on Nov. 23.
Comments will be moderated. Keep comments relevant to the article. Remarks containing abusive and obscene language, personal attacks of any kind or promotion will be removed and the user banned. Final decision will be at the discretion of the Taipei Times.