Firm passing off substandard gas pipes
TOXIC LEAK? A probe found Tonlin used substandard water exhaust pipes imported from China and sold them to well-known water heater firms such as Taiwan Sakura
Leading water heater manufacturer Taiwan Sakura Corp (台灣櫻花) is offering free general security inspections following a government investigation that concluded that its supplier, Tonlin Industrial Co (統領工業), sold substandard exhaust pipes that are prone to corrosion and toxic leaks.
According to an investigation by the Ministry of Justice Bureau of Investigation's New Taipei City branch, Tonlin, based in Tucheng District (土城), had sold 670,000 made-in-China substandard pipes to several well-known water heater companies in Taiwan — including Taiwan Sakura — and made more than NT$100 million (US$3.2 million) in illegal gains.
Government regulations state that only standard 304-type stainless steel pipes be used as water heater exhaust pipes to prevent corrosion and carbon monoxide leaks. Tonlin is suspected of substituting them with imports of substandard 202-type pipes from China.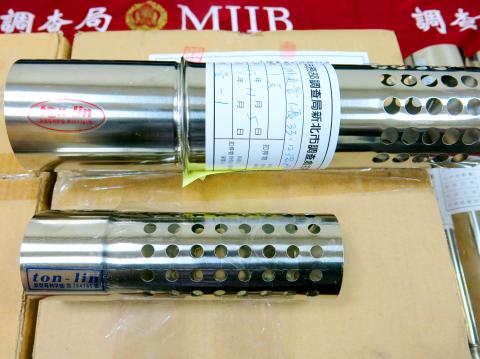 A substandard exhaust pipe, marked with a red label, and a standard pipe, marked with a blue label, are displayed by the Ministry of Justice's Investigation Bureau on Wednesday.
Photo: Wen Yu-teh, Taipei Times
The bureau's New Taipei City branch said that type 202 pipes' heat-resistant nickel content is 4.5 to 9 percent lower, their chromium content is 1 percent lower, while their manganese content is 6 percent higher compared with standard pipes. Exposure to constant humidity and dampness will eventually corrode the pipes and cause toxic leaks, it said.
The branch office confiscated 20,000 pipes from Tonlin and detained two brothers in charge of the company — president Chang Chin-fa (張金發) and CEO Chang Min-te (張敏德) — for questioning. The two were released early on Wednesday morning.
The brothers are potential suspects and would be prosecuted on charges of fraud if authorities uncover more evidence, the office said, adding that it was still investigating potential money laundering activities.
Taiwan Sakura said it had bought 6,250 pipes from Tonlin, but the pipes were used on less popular models, which account for a mere 0.003 percent of its products on the market.
The company said that it conducts regular inspections of its products as well as asking a third party to inspect them. The last inspection was carried out in November 2012 and almost all pipes were confirmed to be type-304 stainless steel ones.
The company encouraged users of the following models — SH2470, SH2420, SH1688, SH1680 and SH1288 — to call its customer service hotline to arrange for a security inspection.
Topax (莊頭北熱水器), another firm affected by the incident, said it would suspend use of materials bought from Tonlin until further notice, adding that consumers who bought any of the affected models can bring them in and exchange them for free.
Topax said it reserved the right to sue Tonlin for reparations, but was holding off on a final decision due to conflicting information from Tonlin and the bureau's New Taipei City office.
Topax said only one of its models, the TH-7121, used pipes from Tonlin since the mandatory use of 304-type pipes was instituted in 2006.
Additional reporting by Wen Yu-te, Huang Pei-chun,
Lee Chung-hsien and Chiu Shao-wen
Comments will be moderated. Keep comments relevant to the article. Remarks containing abusive and obscene language, personal attacks of any kind or promotion will be removed and the user banned. Final decision will be at the discretion of the Taipei Times.