Pakistani teenager, Indian activist win Nobel Peace Prize
Pakistani teenager Malala Yousufzai, who was shot in the head by the Taliban in 2012 for advocating girls' right to education, and Indian children's rights activist Kailash Satyarthi won the Nobel Peace Prize yesterday.
Yousufzai, aged 17, became the youngest Nobel Prize winner.
Satyarthi, 60, and Yousufzai were picked for their struggle against the oppression of children and young people, and for the right of all children to education, the Nobel Committee said.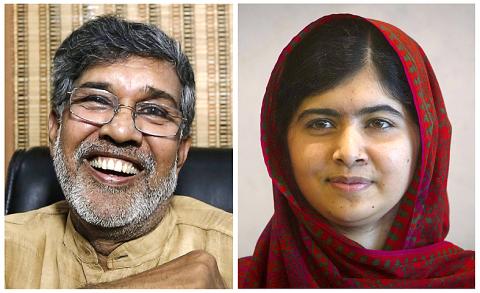 Combination picture of this year`s Nobel Peace Prize winners, Indian children`s right activist Kailash Satyarthi, left, at his office in New Delhi yesterday, and Pakistani schoolgirl activist Malala Yousafzai at the United Nations in the Manhattan borough of New York in a file picture taken August 18.
Photo: Reuters
"The Nobel Committee regards it as an important point for a Hindu and a Muslim, an Indian and a Pakistani, to join in a common struggle for education and against extremism," Nobel Committee head Thorbjoern Jagland said.
Yousufzai was attacked in 2012 on a school bus in the Swat Valley in northwest Pakistan by masked gunmen as a punishment for a blog that she started writing for the BBC's Urdu-language service as an 11-year-old to campaign against the Taliban's efforts to deny women an education.
Unable to return to Pakistan after her recovery, Yousufzai moved to Britain, setting up the Malala Fund and supporting local education advocacy groups with a focus on Pakistan, Nigeria, Jordan, Syria and Kenya.
Satyarthi, who gave up a career as an electrical engineer in 1980 to campaign against child labor, has headed various forms of peaceful protests and demonstrations, focusing on the exploitation of children for financial gain.
"It's an honor to all those children still suffering in slavery, bonded labor and trafficking," Satyarthi told TV news channel CNN-IBN after learning he won.
In an editorial, Satyarthi said that data from non-governmental organizations indicated that child laborers could number 60 million in India.
"Children are employed not just because of parental poverty, illiteracy, ignorance, failure of development and education programs, but ... due to the fact that employers benefit immensely from child labor," he wrote.
Children are employed illegally and companies use the financial gain to bribe officials, creating a vicious cycle, he said.
Yousufzai last year addressed the UN Youth Assembly in an event UN Secretary-General Ban Ki-moon called "Malala Day." This year she traveled to Nigeria to demand the release of 200 schoolgirls kidnapped by extremist group Boko Haram.
"To the girls of Nigeria and across Africa and all over the world, I want to say: Don't let anyone tell you that you are weaker than or less than anything," she said in a speech.
The prize is to be presented in Oslo on Dec. 10, the anniversary of the death of Swedish industrialist Alfred Nobel, who founded the award in his 1895 will.
The previous youngest winner was Australian-born British scientist Lawrence Bragg, who was 25 when he shared the Physics Prize with his father in 1915.
Comments will be moderated. Keep comments relevant to the article. Remarks containing abusive and obscene language, personal attacks of any kind or promotion will be removed and the user banned. Final decision will be at the discretion of the Taipei Times.