HK democracy protesters stand firm
POLITICAL CHALLENGE: The movement represents one of the biggest threats to the Chinese Communist Party since the 1989 Tiananmen Square Massacre in Beijing
Hong Kong democracy protesters defied volleys of tear gas and police baton charges to stand firm in the center of the global financial hub yesterday, one of the biggest political challenges for China since the Tiananmen Square Massacre 25 years ago.
The government in Beijing made clear it would not tolerate dissent and warned against any foreign interference as thousands of protesters massed for a fourth night in the free-wheeling, capitalist territory of more than 7 million people.
"Hong Kong is China's Hong Kong," Chinese Ministry of Foreign Affairs spokeswoman Hua Chunying (華春瑩) defiantly told a news briefing in Beijing.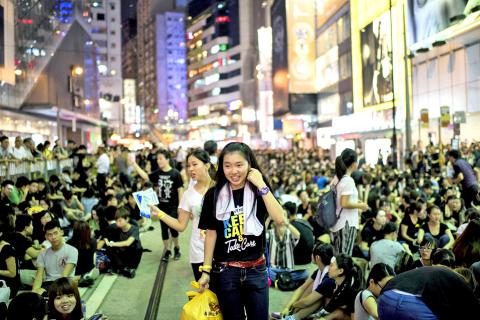 Two young pro-democracy protesters distribute food and masks to demonstrators at a rally in Hong Kong's Causeway Bay last night.
Photo: AFP
The unrest, the worst in Hong Kong since China resumed its rule over the former British colony in 1997, sent white clouds of gas wafting among some of the world's most valuable office towers and shopping malls, before riot police suddenly withdrew at about lunchtime.
Tens of thousands of mostly student protesters are demanding full democracy and have called on Hong Kong Chief Executive Leung Chun-ying (梁振英) to step down.
China rules Hong Kong under a "one country, two systems" formula that accords the territory only a degree of democracy.
Police officers face pro-democracy protesters next to Hong Kong's police headquarters in Wan Chai last night.
Photo: AFP
As riot police withdrew, weary protesters slept beside roads or sheltered from the sun beneath umbrellas, which have become a symbol of what some are calling the "umbrella revolution."
In addition to protection from the elements, umbrellas have been used as shields against pepper spray.
Nicola Cheung, an 18-year-old student from Baptist University, said the protesters in central Admiralty District were assessing the situation and planning what to do next.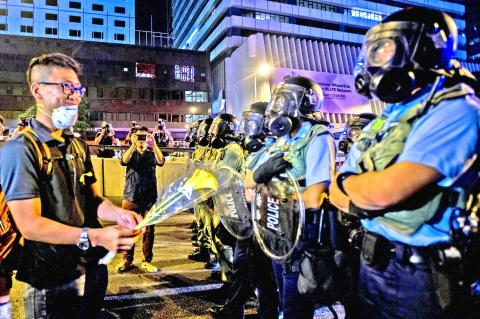 A demonstrator offers a flower to riot police officers during pro-democracy protests in Hong Kong on Sunday night.
Photo: AFP
"Yes, it's going to get violent again because the Hong Kong government isn't going to stand for us occupying this area," Cheung said. "We are fighting for our core values of democracy and freedom, and that is not something violence can scare us away from."
Organizers said that as many as 80,000 people have thronged the streets after the protests flared on Friday last week. No independent estimate of numbers was available.
The protests, with no single identifiable leader, bring together a mass movement of mostly tech-savvy students who have grown up with freedoms not enjoyed in mainland China. The movement represents one of the biggest threats for the Chinese Communist Party leadership since its bloody 1989 crackdown on pro-democracy student protests in and around Tiananmen Square in Beijing.
Cracking down too hard could shake confidence in market-driven Hong Kong, while not reacting firmly enough could embolden dissidents on the mainland.
The protests are expected to escalate tomorrow, China's National Day holiday, with residents of the nearby former Portuguese enclave of Macau planning a rally.
Such dissent would never be tolerated on the mainland, where the phrase "Occupy Central" was blocked on Sunday on microblogs.
Protesters say there should be open nominations for candidates for Hong Kong's 2017 leadership election. China's rubber-stamp parliament endorsed a framework on Aug. 31 that ensured only pro-Beijing candidates.
Televised scenes of the chaos in Hong Kong over the weekend have already made a deep impression on many viewers outside Hong Kong.
Britain said it was concerned about the situation in Hong Kong and called for the right of protest to be protected.
The US Consulate General in Hong Kong issued a statement calling for all sides to "refrain from actions that would further escalate tensions."
Hua said Beijing noted statements expressed by countries such as the US.
"We hope that the relevant country will be cautious on this issue and not send the wrong signal," she said. "We are resolutely opposed to any foreign country using any method to interfere in China's internal affairs. We are also resolutely opposed to any country attempting in any way to support such illegal activities like 'Occupy Central.'"
"We are fully confident in the long-term prosperity and stability of Hong Kong, because I believe this is in keeping with the interests of all the people in China, the region and the world," she said.
Earlier yesterday, police had baton-charged a crowd blocking a road into the main government district in defiance of official warnings.
Several scuffles broke out between police in helmets, gas masks and riot gear, and demonstrators.
"If today I don't stand up, I will hate myself in future," taxi driver Edward Yeung, 55, said as he swore at police. "Even if I get a criminal record, it will be a glorious one."
Comments will be moderated. Keep comments relevant to the article. Remarks containing abusive and obscene language, personal attacks of any kind or promotion will be removed and the user banned. Final decision will be at the discretion of the Taipei Times.