Chang Guann 'sorry' for tainted lard oil
GUTTER INGREDIENTS: The Greater Kaohsiung company said it was recalling all of its Chuan Tung 'fragrant lard oil' that have an expiry date prior to March 1 next year
Chang Guann Co (強冠企業), a food oil manufacturer in Greater Kaohsiung, yesterday apologized to the public after one of its lard products was allegedly found to be tainted with "gutter oil" illegally recycled by an unlicensed factory in Pingtung County.
Gutter oil, also known as drainage oil, is recycled oil collected from various sources such as kitchen fryers, restaurant drains and grease traps. It is mainly used in the production of soap.
"We only began purchasing lard from the Pingtung factory on Feb. 25 this year. As of last month, a total of 243 tonnes of lard had been bought from the factory, 216 tonnes of which have been used as a base oil in the manufacturing of 780 tonnes of edible lard oil," the company based in Daliao District (大寮) said in a press release.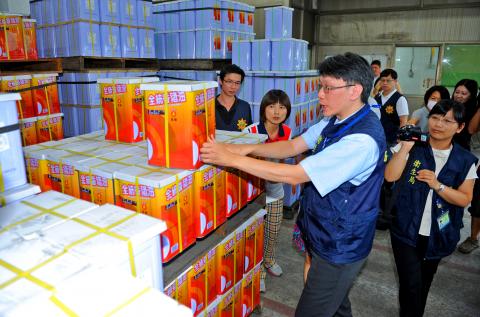 Kaohsiung City Government Department of Health staff inspect Chang Guann Co's warehouse in Greater Kaohsiung's Daliao District after the company's lard oil products were reportedly found to be tainted with illegally recycled "gutter oil."
Photo: Chang Chung-yi, Taipei Times
There was an immediate trickle-down effect after Chang Guann Co's apology. Wei Chuan Foods Corp (味全食品工業) said it had immediately pulled 12 pork floss and meat paste products from stores.
Wei Chuan has purchased oil products that have been found to have questionable ingredients from Chang Guann Co and used them in the 12 products, so it decided to temporarily stop sales for the products and accept returns from consumers, Wei Chuan said in a statement to the Taiwan Stock Exchange.
The company said it had informed Taipei's Public Health Bureau and would fully cooperate with the government regarding inspection on these products.
A drum allegedly containing "gutter oil" is pictured at Chang Guann Co in Greater Kaohsiung yesterday.
Photo: Huang Chien-hua, Taipei Times
Wei Chuan said it will consider seeking reimbursement from Chang Guann to protect its rights and interests if the oil products purchased from Chang Guann are confirmed to have included the suspect ingredients.
Chang Guann said the 780 tonnes of processed lard oil were divided into 51,700 cartons and marketed as "fragrant lard oil" (香豬油) under its cooking oil brand, Chuan Tung (全統), and that 48,500 cartons had been sold.
"We are also a victim in this case. Although not all of our fragrant lard oil products contain the alleged gutter oil, to safeguard consumers' interest, on Tuesday we ordered the recall of all products with an expiration date before March 1 next year," the company said.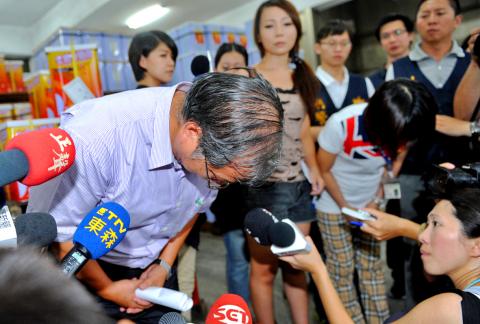 Chang Guann Co chairman Yeh Wen-hsiang apologizes to the public in Greater Kaohsiung yesterday after some of the company's lard oil products were reportedly tainted with "gutter oil" purchased from an unlicensed factory in Pingtung County.
Photo: Chang Chung-yi, Taipei Times
The statement was issued just hours after Chang Guann deputy general manager Tai Chi-chuan (戴啟川) was summoned for questioning by the Pingtung District Prosecutors' Office, following a raid carried out by the Criminal Investigation Bureau's southern crime combat center on the unlicensed factory in Pingtung.
The factory's owner, Kuo Lieh-cheng, (郭烈成) and an employee surnamed Shih (施) were also questioned yesterday, along with Kuo Chun-yeh (郭春葉), the owner of animal feed manufacturer Ching Wei Co (進威) — which allegedly bought gutter oil from the same factory for use in its pig feed products — Kuo's wife and an employee surnamed Su (蘇), Pingtung Chief District Prosecutor Yang Wan-li (楊婉莉) said.
"The office joined hands with the Food and Drug Administration [FDA] and the health departments of Pingtung and Greater Kaohsiung to investigate whether the factory sold gutter oil disguised as lard, and where and to whom such products were sold," Yang said.
FDA Southern Center Deputy Director Liu Fang-ming (劉芳銘) said a preliminary investigation showed that Chang Guann's fragrant lard oil products manufactured between March 1 and Aug. 29 could have been mixed with the alleged gutter oil.
"Since the potentially contaminated products were packaged in 15kg and 16kg cartons, they were likely to have been sold to small restaurants or eateries rather than consumers," Liu said.
If Chang Guann bought the suspect lard without knowing what it really was, the company's owners might only be subject to a fine ranging from NT$60,000 (US$2,000) to NT$50 million, as stipulated in Article 15 of the Act Governing Food Safety and Sanitation (食品安全衛生管理法), Liu said.
"However, if the firm was aware of the lard's real contents and still used it to manufacture cooking oil, its owners could face a maximum prison term of seven years," he said.
Additional reporting by Amy Su
Comments will be moderated. Keep comments relevant to the article. Remarks containing abusive and obscene language, personal attacks of any kind or promotion will be removed and the user banned. Final decision will be at the discretion of the Taipei Times.