German chancellor holds crisis talks in Ukraine
Russia's controversial aid convoy to war-torn eastern Ukraine returned across the border yesterday, as German Chancellor Angela Merkel held crisis talks in Kiev with the country's pro-Western leaders.
The visit by Merkel — the most influential Western leader to call on Kiev since the start of the crisis in the ex-Soviet state — comes ahead of a crunch meeting between the presidents of Ukraine and Russia next week.
Tensions soared to a new high on Friday after the Kremlin unilaterally sent what it said was an aid convoy across the border to the insurgent stronghold of Lugansk in a move Kiev branded an "invasion."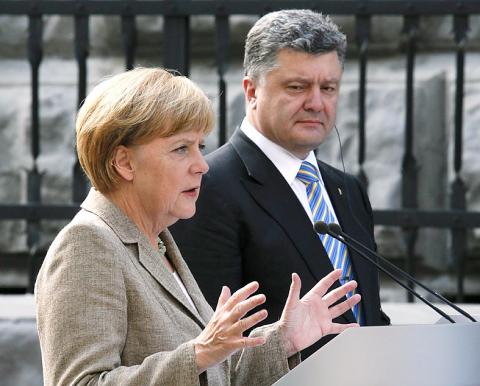 Germany's Chancellor Angela Merkel (L) gestures during a news conference with Ukraine's President Petro Poroshenko in Kiev yesterday.
Photo: Reuters
The West rebuked Russia over the convoy, with Washington warning Moscow it could face further sanctions, while the UN Security Council voiced concerns it could escalate the four-month conflict.
An observer for the Organisation for Security and Cooperation in Europe (OSCE) at the border said that the return of the Russian trucks was "complete" by about 12pm yesterday.
US President Barack Obama and Merkel had warned in a telephone call that the Russian convoy marked a "dangerous escalation" of the conflict in Ukraine, with Western fears that it could presage Moscow sending in troops.
Merkel, who has played a central role in trying to end the crisis, will have to tread a fine line in Ukraine, showing firm support for Kiev's leaders, while also pushing for restraint in their increasingly successful — but deadly — offensive.
The German leader received flowers before getting down to talks with Ukrainian President Petro Poroshenko, ahead of the first meeting in months between Poroshenko and Russian President Vladimir Putin in Minsk alongside top EU officials.
Poroshenko has pledged to "talk peace" with Putin, but insists that an end to the conflict that has cost more than 2,200 lives can be achieved only if pro-Kremlin fighters are pulled out of Ukrainian territory.
German Vice Chancellor Sigmar Gabriel said in a newspaper interview that establishing a federal Ukraine would be the only "viable path" to ending the crisis, a statement likely to set off alarm bells in Kiev, where such ideas have been fiercely opposed.
Comments will be moderated. Keep comments relevant to the article. Remarks containing abusive and obscene language, personal attacks of any kind or promotion will be removed and the user banned. Final decision will be at the discretion of the Taipei Times.