Al-Maliki digs in as France joins US in arming Iraq's Kurds
France yesterday announced that it will send arms to the Kurds in Iraq "in the coming hours" to help them defend their territory against fighters from the Islamic State, formerly known as the Islamic State of Iraq and the Levant.
The announcement by French President Francois Hollande's office came as the US said it was also stepping up its role, with the Pentagon to send 130 more military advisors — US marines and special ops troops — to Iraq to assess the humanitarian crisis.
It is believed that the advisors' main goal is to organize a land escape route for up to 30,000 civilians, mostly of the Yazidi religious sect, who are trapped on Mt Sinjar near the Syrian border, hemmed in by Islamic State militants who have threatened to kill them.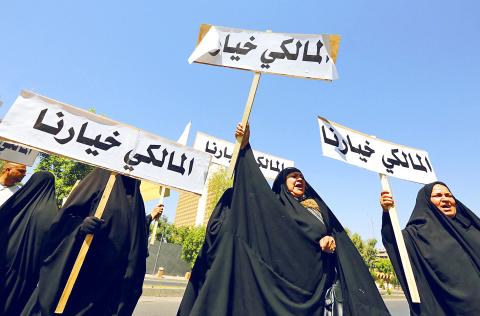 Women yesterday wave signs reading: "[Iraqi Prime Minister Nouri] Al-Maliki is our choice" to show their support for the embattled leader at a rally held at an undisclosed location.
Photo: AFP
"In order to respond to the urgent need expressed by the Kurdistan regional authorities, the president has decided, in agreement with Baghdad, to deliver arms in the coming hours," Hollande's office said in a statement.
British Prime Minister David Cameron cut short his holiday in Portugal to return to Downing Street and decide on further steps the UK can take to assist the Kurds and Yazidis. Britain is already airlifting Jordanian military vehicles to Iraqi Kurdistan and taking part in air drops on Mt Sinjar.
In Baghdad, Iraqi Prime Minister Nouri al-Maliki stuck to his guns yesterday and refused to step down. However, his hold on power appears tenuous after both Washington and Iranian Supreme Leader Ayatollah Ali Khameini, a long-time al-Maliki ally, publicly backed his replacement.
Taking to state TV as acting prime minister, al-Maliki said the Iraqi Supreme Court must rule on Iraqi President Fouad Masoum's decision to ask al-Maliki's Shiite Islamist party colleague Haidar al-Abadi to form a new government — a change that Iran, the US and many Iraqis see as vital to halt the advance of Sunni militants.
Al-Maliki has complained to the Iraqi Federal Court that, as leader of the largest bloc in the new parliament, he must by right be given the first chance to form a new government. The appointment by of al-Abadi is a breach of the constitution, he said.
Yet while the loyalty of at least some Shiite militia and government forces remains uncertain, there were further signs that al-Maliki, blamed for alienating the Sunni minority during his eight years in power, is isolated, even among fellow Shiites.
In a show of the escalating sectarian violence around Iraq, five Sunnis were killed yesterday in Baquba, northeast of Baghdad, when Shiite gunmen stormed a mosque and shot them as they prayed, security sources said.
Comments will be moderated. Keep comments relevant to the article. Remarks containing abusive and obscene language, personal attacks of any kind or promotion will be removed and the user banned. Final decision will be at the discretion of the Taipei Times.