Legislator urges new economy minister
PERSISTENT PREMIER: Jiang Yi-huah said he would keep talking to economics minister Chang Chia-juch to try to convince him to reverse his decision to resign
As an opposition legislator demanded a new minister of economic affairs, Premier Jiang Yi-huah (江宜樺) yesterday said he would continue urging current Minister of Ecomic Affairs Chang Chia-juch (張家祝) to reconsider his request to leave the Cabinet due to his "disappointment about the current political environment."
Chang tendered his resignation on Thursday, issuing a press release attributing the decision to his dismay over a political environment in which "many people from the opposition parties obstructed [the ministry's policies] without a sense of right and wrong or consideration for people's welfare."
Chang said he was also "disheartened" by "some politicians' use of misleading information for political machinations and to humiliate the ministry's staff with smears and oppression" after the gas pipeline explosions in Greater Kaohsiung on July 31 and Aug. 1.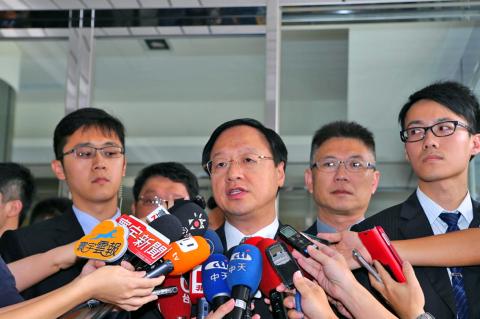 Premier Jiang Yi-huah talks to the media in Taipei yesterday, saying that he has asked Minister of Economic Affairs Chang Chia-juch to reconsider stepping down.
Photo: CNA
Jiang said he received a call from Chang on Friday night.
"He told me that he wished not to be disturbed for a few days and said he wanted to apologize to me and the president," Jiang said.
Chang is disappointed with the political environment in which "people who want to make an effort are thwarted by major policies and constant humiliation from political appointees," Jiang said.
During the half-hour call, Jiang said he could not persuade Chang to change his mind "for the country's development and national welfare."
Jiang said that he would stay in touch with the minister over the next couple of days.
Chang released the statement on the same day that Kaohsiung Mayor Chen Chu (陳菊) apologized and four Kaohsiung Government officials resigned to respond to calls for accountability.
While Jiang called on Chang to stay, Democratic Progressive Party Legislator Kuan Bi-ling (管碧玲) was against the idea.
Kuan said yesterday that Chang had at 8pm on Wednesday closed down the Central Disaster Response Center established on Aug. 1, but failed to set up a restoration committee.
"Chang handed the rehabilitation mission over to a low-level industrial park service center forward command post in Fengshan District (鳳山), Kaohsiung," Kuan said.
"While the Disaster Prevention and Protection Act (災害防救法) indicates as an option, but does not require, a restoration committee to be set up, Chang's decision shows that he thinks rescue efforts can be handled by an industrial park service center," Kuan said.
"Questions such as how NT$1.91 billion [US$63.67 million] in disaster relief funds is to be allocated have not been settled," she said. "Restoration questions remain unanswered. For example: How is the city to cope with industrial pipelines and what will changes mean for the petrochemical industry?"
"Is an industrial park service center capable of making decisions on these matters?" Kuan asked.
Kuan also accused Chang and the Chinese Nationalist Party (KMT) of "playing politics," saying Chang had prepared to go on leave on Wednesday, hoping to shirk his responsibility, but then attended a legislative committee meeting on Thursday to be a "scapegoat" so the KMT could attribute Chang's leave to "malicious obstruction" by the opposition.
The committee meeting was scheduled to review a special draft act regarding free economic pilot zones, but ended early due to the opposition's protest over the presence of Ministry of Economic Affairs officials, who the opposition said should have been focused on the Kaohsiung disaster given that the ministry is the competent authority in the matter.
"I demand an immediate ministerial change, and there is no need to urge [Chang] to stay. Also, a restoration committee for the Kaohsiung explosions should be set up immediately," Kuan said.
Comments will be moderated. Keep comments relevant to the article. Remarks containing abusive and obscene language, personal attacks of any kind or promotion will be removed and the user banned. Final decision will be at the discretion of the Taipei Times.