Monk hits out at Beijing over master's detention
Chinese Buddhist master Shi Guoshi (釋果實) has lashed out at the Chinese government over the detention more than two months ago of her master, the democracy activist-monk Shi Shengguan (釋聖觀), on a charge of "inciting subversion of state power," accusing Beijing of repressing the freedom of religion and urging Taiwanese to help his cause.
"My Dharma teacher, Master Shengguan, is an upright Buddhist master who has insisted on telling the truth and has been wholeheartedly spreading the teachings of the Buddha, hoping to help people gain spiritual salvation and promote peace," Shi Guoshi said in an interview with the Taipei Times in Taipei earlier this week.
"Unfortunately, this honest and upright monk was arrested following a Dharma teaching session in Wuhan on May 17 and charged with inciting subversion of state power, and has been in detention since then," she added.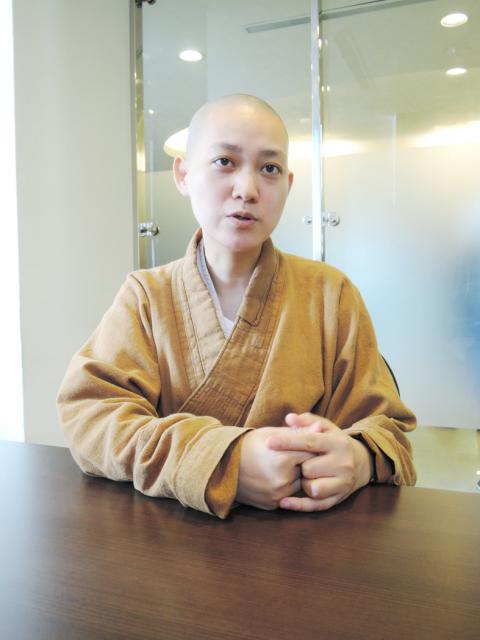 Buddhist master Shi Guoshi speaks to the Taipei Times in an interview in Taipei on July 20 over the arrest of her master, Shi Shengguan, by the Chinese government more than two months ago.
Photo: Loa Iok-sin, Taipei Times
Shi Guoshi said Shi Shengguan was supposed to return to Guangzhou after a public Dharma teaching session in Wuhan on the day, but did not arrive at the airport in Guangzhou as scheduled. Only after speaking to people who were with him in Wuhan did she find out that he had been arrested.
She said that several people who were with Shi Shengguan were also arrested, but those who did not proclaim to be Buddhists were released on bail on the following days. Shi Shengguan and a follower who proclaimed herself a Buddhist, Hung Jingyi (黃靜怡), have both been kept in detention.
Shi Guoshi added that she has been unable to get in touch with Shi Shengguan and authorities have refused to reveal details of his arrest and where he is being held.
She said that Shi Shengguan dislikes the Chinese Communist Party (CCP), but would never try to "incite subversion of state power" since, as a Buddhist, he is opposed to any act of violence.
"My master actually has high expectations of [Chinese President] Xi Jinping (習近平), as Xi appears to be a reform-minded person," Shi Guoshi said. "My master is opposed to the Chinese Communist Party — so am I, as any true Buddhists would be — but he has said several times in public that he believes Xi will eventually lead the Chinese people to end the CCP's regime."
"My master is opposed to a revolution or anything of that sort, because he is absolutely opposed to any act of violence," Shi Guoshi added. "He believes that freedom and democracy would eventually come when everyone, including government officials and law enforcement [agents], would change their way of thinking, and the authoritarian regime would fall apart on its own."
Before becoming a Buddhist monk in 2002, Shi Shengguan had been active in the Chinese pro-democracy movement and was supportive of the student demonstrators in Tiananmen Square in 1989.
He was later arrested and imprisoned for one year for his activism, and became a monk not long after his release.
After becoming a monk, Shi Shengguan still showed much concern for freedom and democracy, and he has held a Buddhist memorial service for those who lost their lives in the Tiananmen Square Massacre in 2006. He also visited the exiled Tibetan spiritual leader the Dalai Lama, lauding him as "the greatest monk of these times."
"The arrest of my master is totally wrong and it is a repression of the freedom of religion, because he has not done anything that is against the Buddha's teaching, or would never harm anyone," Shi Guoshi said.
Commenting on Shi Shengguan's criticism of the CCP, Shi Guoshi said that any true Buddhist would do so, and her master has never had a problem doing so in the past.
"If [President] Ma Ying-jeou [馬英九] or [US President] Barack Obama can be criticized, why can't the CCP be criticized?" she said.
"I am here to seek hope from the Taiwanese, especially the Buddhist masters here, since it is a Buddhist master who was arrested in China. I would go ask any Buddhist monk I meet to see if they would give a helping hand while I am in Taiwan," Shi Guoshi said.
Comments will be moderated. Keep comments relevant to the article. Remarks containing abusive and obscene language, personal attacks of any kind or promotion will be removed and the user banned. Final decision will be at the discretion of the Taipei Times.