Japanese expert says quake an aftershock of 2011 event
Seismologists said an earthquake that struck near Japan's shuttered Fukushima Dai-ichi nuclear power plant early yesterday was an aftershock of the tremor that sparked 2011's deadly tsunami, and warned of more to come.
The magnitude 6.8 earthquake off the Pacific coast of northeastern Japan caused a minor tsunami in the early hours, though authorities lifted warnings a few hours later.
Seismologist Yasuhiro Yoshida of the Japan Meteorological Agency said it was a delayed tectonic reaction to the magnitude 9 quake, which left the Fukushima plant in a meltdown crisis after the coast was ravaged by tsunami in March 2011.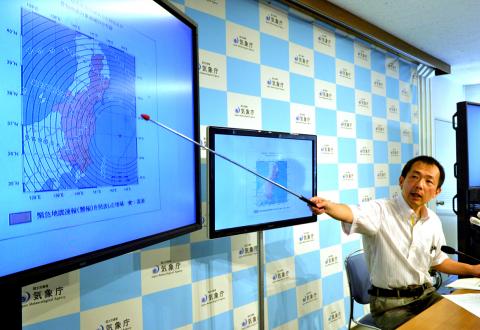 Japan Meteorological Agency official Yasuhiro Yoshida speaks during a press conference in Tokyo yesterday.
Photo: AFP
"There are fears that relatively large earthquakes will occasionally occur in the ocean area where aftershocks of the great earthquake continue," he said. "The aftershock activity has been steadily declining on a long-term basis. But aftershocks, accompanied by tsunamis, will still occur."
Yesterday's quake measured up to four on the Japanese scale of seven in terms of intensity, and Yoshida said there was a possibility aftershocks measuring a moderate three on that scale would occur in the next two weeks.
At least three people were injured in the latest quake, but there was no damage done to the crippled nuclear plant, officials said.
A US Geological Survey graphic shows the shakemap of a magnitude 6.8 earthquake that struck off Japan's east coast yesterday.
Photo: EPA
The quake occurred at a depth of 13km off Fukushima's coast, the US Geological Survey said.
It was strong enough to be felt in Tokyo, more than 200km to the south, with many people woken by earthquake alerts sent by the Japan Meteorological Agency to their mobile phones.
Fukushima plant operator Tokyo Electric Power (TEPCO) said there were no reports of any abnormality early yesterday.
Sea levels cannot be gauged near the nuclear plant as the tsunami monitoring system was destroyed in the 2011 disaster.
"We have not seen any damage or any change in radiation gauges after the quake," TEPCO spokesman Masahiro Asaoka said. "Our temporary breakwater that was newly built at the plant is high enough to block a 1m tsunami."
Comments will be moderated. Keep comments relevant to the article. Remarks containing abusive and obscene language, personal attacks of any kind or promotion will be removed and the user banned. Final decision will be at the discretion of the Taipei Times.