President mocked after Panamanian press gaffe
MISTAKEN IDENTITY: Two Panamanian newspapers mistakenly used a photo of Taiwan Affairs Office Minister Zhang Zhijun instead of President Ma
Government critics and opposition lawmakers mocked an embarrassing photo faux pas involving President Ma Ying-jeou (馬英九), as his Central American tour got under way with a visit to diplomatic ally Panama.
Two Panamanian newspapers, La Prensa and La Estrella de Panama, mistakenly used a photo of China's Taiwan Affairs Office (TAO) Minister Zhang Zhijun (張志軍), who was identified in the caption as Ma, for a story on Ma's visit on their Web sites.
The picture was of Zhang being welcomed by a group of monks, with bodyguards lined up behind him, during his visit to Fo Guang Shan Monastery in Greater Kaohsiung last week.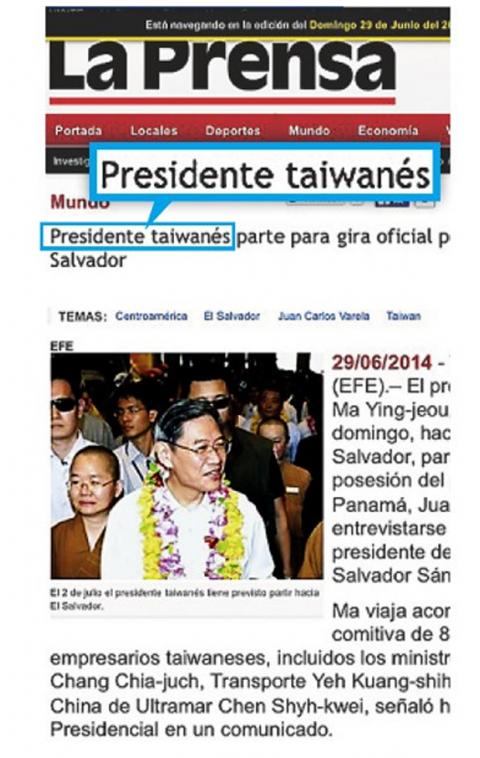 A photo of China's Taiwan Affairs Office Minister Zhang Zhijun is used to illustrate an article about President Ma Ying-jeou on La Prensa's Web site on Sunday.
Photo: Tsao Po-yen, Taipei Times, from the Internet
The mistakes were corrected after the Ministry of Foreign Affairs filed a complaint.
"The mistake is just outrageous. Either Panama is disrespectful or not too concerned about Ma's visit, or our embassy there did not do its job. They did do thorough planning ahead of Ma's visit to Panama. The photo blunder is very embarrassing," Democratic Progressive Party (DPP) Legislator Tsai Huang-liang (蔡煌瑯) said, adding that because the Ma administration had provided Zhang with such high levels of security during his visit to Taiwan last week, it probably led the Panamanian media to believe Zhang was the president of Taiwan.
Netizens also took to the Web to ridicule Ma.
"It has been revealed that Ma moonlights on a second job as director of China's TAO," one wrote.
"So all the high-level security measures last week were to protect the president," another netizen wrote.
There was also controversy when Ma hosted an official banquet for more than 300 guests at a hotel in Panama City on Monday.
A Taiwanese businessman living in Panama who was invited to the banquet said most of the so-called "overseas Chinese communities in Panama" attending the function were friendly to, or associated with, the People's Republic of China.
"Most of the [ethnic] Chinese people in Panama are from China. There are about 200,000 in total. Taiwanese doing business here are in the minority. There are only about 300 from Taiwan living in Panama now," said the businessman, who declined to be named.
One of the guests at the banquet was Chiu Wenfeng (邱文峰), deputy chairman of the China-Panama Friendship Association.
"I can tell you that of all the guests attending this banquet hosted by Ma, 70 percent are from China," Chiu said.
He said Ma's banquet invitation list included all the main Chinese business associations in Panama, along with Chinese overseas benevolent groups.
Comments will be moderated. Keep comments relevant to the article. Remarks containing abusive and obscene language, personal attacks of any kind or promotion will be removed and the user banned. Final decision will be at the discretion of the Taipei Times.