Yemen says al-Qaeda to blame for attack
Al-Qaeda militants, including suicide bombers, launched a massive predawn assault on one of southeastern Yemen's main towns yesterday, killing at least 15 soldiers and police, Yemeni officials said.
They attacked army bases and public buildings in Seiyun, Hadramawt Province, with car bombs, rocket-launchers and heavy machine guns, the officials said.
The regional military headquarters, the special forces base and the main police station were all targeted in the attack, which began shortly after midnight, residents said.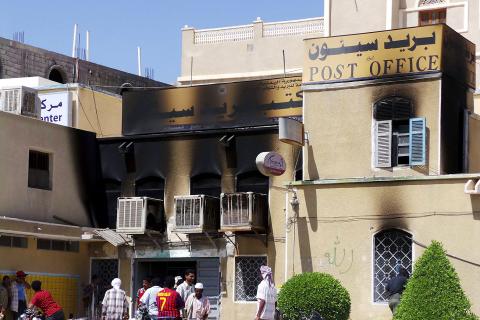 People gather outside a damaged post office after it was raided by gunmen in Seyoun city, in the Yemeni southeastern province of Hadramout yesterday.
Photo: Reuters
Twelve militants were killed, three of them suicide bombers, but were able to evacuate about 20 wounded when they withdrew late in the morning, a local government official said.
The assault in Hadramawt, a jihadist stronghold that has seen large-scale attacks on the army in the past, came as Yemeni troops pressed a month-old ground offensive against al-Qaeda in Abyan and Shabwa provinces to the west.
Yemeni President Abdrabuh Mansur Hadi, who had ordered security forces on high alert for fear of al-Qaeda reprisals, fired Seiyun army commander General Mohammed Somali over the attack, a defense ministry official told reporters in Sanaa.
Somali had left his post on Friday to travel to the capital and had relaxed security during his absence, the official said.
A loyalist of the president, General Ahmed Ali Hadi, was named to replace him.
Al-Qaeda has launched a spate of spectacular attacks on army headquarters around the country in recent months.
In December last year, it assaulted the Ministry of Defense in the heart of the capital, killing 56 people.
An attack last month on army headquarters in the main southern city of Aden left at least 20 people dead.
Three car bombs were detonated outside the main military compound in Seiyun, but its garrison put up fierce resistance, a security official said.
Militants ransacked the main post office and two banks, residents said.
Seiyun is the main town in the Hadramawt valley in the province's interior.
Al-Qaeda has also launched spectacular attacks in the provincial capital Mukalla on the Arabian Sea coast.
In October last year, militants stormed army headquarters in the port city and held some of its garrison hostage for several days before finally being overrun in fighting that left at least 10 people dead.
In February 2012, a suicide bomber blew up a vehicle outside the presidential palace in Mukalla, killing 26 elite troops and overshadowing Hadi's swearing-in as the first new president in Sanaa since 1978.
Al-Qaeda exploited the 11-month-long 2011 uprising that led to the ouster of former Yemeni president Ali Abdullah Saleh to seize large swathes of southern and eastern Yemen.
The army recaptured several major towns in 2012, but has struggled to reassert control in rural areas despite recruiting militia allies among the local tribes.
Troops launched a new offensive in the mountains of Abyan and Shabwa on April 29 and have entered a string of smaller towns.
However, analysts say the army's gains may have been the result of a tactical retreat by al-Qaeda in coordination with the tribes.
Washington regards the jihadists' Yemen franchise — al-Qaeda in the Arabian Peninsula — as its most dangerous and has stepped up drone attacks against its leaders in recent months.
Comments will be moderated. Keep comments relevant to the article. Remarks containing abusive and obscene language, personal attacks of any kind or promotion will be removed and the user banned. Final decision will be at the discretion of the Taipei Times.