Afghan landslide kills at least 350
Rescuers searched in vain for survivors yesterday after a landslide buried an Afghan village, killing at least 350 people and leaving thousands of others feared dead amid warnings that more earth could sweep down the hillside.
Local people made desperate efforts to find people trapped under a massive river of mud that engulfed Aab Bareek village in Badakhshan Province, where little sign remained of hundreds of destroyed homes.
The UN confirmed that 350 people had been killed in Friday's disaster.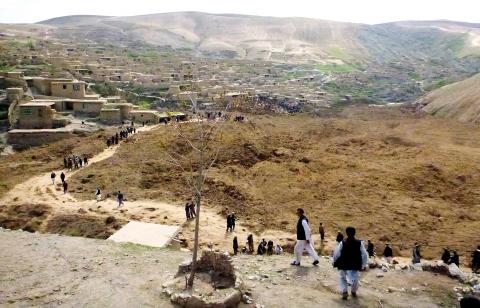 A general view of houses which were destroyed in a landslide in Argu village, Badakhshan Province, Afghanistan, yesterday.
Photo: EPA
Afghan officials said yesterday that a maximum of about 500 people died in a landslide that engulfed a village, updating earlier information that 2,500 people were feared dead.
"The first figure that we announced was obtained from local people, not from our technical team," Badakhshan Province deputy governor Gul Mohammad Bedar said.
"We think the dead toll will not rise beyond 500," he said.
Emergency workers arrived at first light to be confronted by the enormous scale of the landslide and hundreds of homeless families.
"There is a very thick layer of mud. It is very difficult for people to take dead bodies out," Sayed Abdullah Homayun Dehqan, provincial director of the Afghan National Disaster Management Authority, said at the scene.
The site is expected to be designated a mass grave, and memorial services have been planned.
Many villagers were at Friday prayers in two mosques when they were entombed by the tide of debris, and a second landslide hit people who had rushed to assist those in need.
"All the relevant UN agencies — together with the Afghan Red Crescent Society and NGO partners — are already on the ground," the UN mission in Afghanistan said.
"The immediate focus is on approximately 700 families displaced either directly as a result of this slide or as a precautionary measure from villages assessed to be at further risk," it said.
The landslides follow recent severe flooding in other parts of northern Afghanistan, with 150 people dead and 67,000 people affected by floods in Jowzjan, Faryab and Sar-e-Pul provinces.
Comments will be moderated. Keep comments relevant to the article. Remarks containing abusive and obscene language, personal attacks of any kind or promotion will be removed and the user banned. Final decision will be at the discretion of the Taipei Times.