Large death toll feared from South Korean ferry disaster
South Korean rescuers, including elite navy SEAL divers, worked frantically under floodlights yesterday in an attempt to find nearly 300 people missing after a ferry sank with 459 on board, mostly high-school students bound for a holiday island.
South Korean Vice Minister of Security and Public Administration Lee Gyeong-og said 164 people had been rescued, leaving 291 "unaccounted for."
There were four confirmed deaths, including a female crew member and a student. There are fears the confirmed death toll could rise sharply. The 6,825 tonne Sewol listed violently, capsized and finally sank — all within two hours of sending a distress signal at 9am.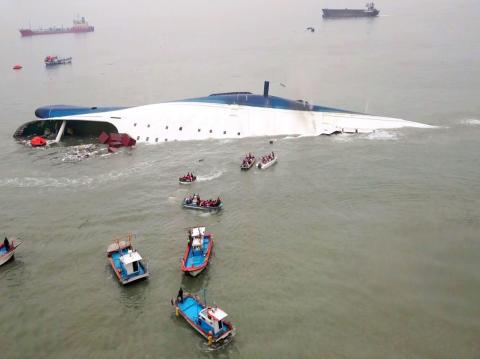 Rescue teams help to save passengers from a ferry that began sinking about 20km off the island of Byungpoong in Jindo, South Korea, yesterday.
Photo: AFP
"I'm afraid there's little chance for those trapped inside still to be alive," senior rescue team official Cho Yang-bok told YTN television as teams of divers struggled to access the submerged ferry.
Television footage showed terrified passengers wearing life jackets clambering into inflatable boats as water lapped over the rails of the vessel as it sank 20km off the southern island of Byungpoong.
Some could be seen sliding down the steeply inclined side of the ferry and into the water, as rescuers, including the crew of what appeared to be a small fishing boat, pulled them to safety.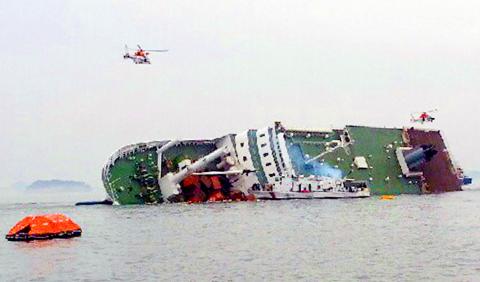 This photo taken yesterday shows helicopters heading to aid 476 passengers and crew aboard a South Korean ferry sinking on its way to Jeju island from Incheon.
Photo: AFP
As night fell, the South Korean Coast Guard said the rescue operation was continuing using floodlights and underwater flares.
Of the 429 passengers on board the ferry bound for the popular southern resort island of Jeju, more than 300 were students traveling with 14 teachers from a high school in Ansan, south of Seoul.
Among those confirmed as rescued, 78 were students.
"I feel so pained to see students on a school trip ... face such a tragic accident. I want you to pour all your energy into this mission," South Korean President Park Geun-hye said on a visit to the main disaster agency situation room in Seoul.
The cause of the accident was not immediately clear, although rescued passengers reported the ferry coming to a sudden, shuddering halt — indicating that it might have run aground.
The weather was described as fine, with moderate winds and sea swell.
One local official, who took a boat to the site and arrived an hour after the distress signal was sent, said he was "very concerned" about those still missing.
"The ship was already almost totally submerged when I got there. A lot of people must have been trapped," the official, who declined to be identified, said by telephone.
Comments will be moderated. Keep comments relevant to the article. Remarks containing abusive and obscene language, personal attacks of any kind or promotion will be removed and the user banned. Final decision will be at the discretion of the Taipei Times.