Chinese academic a military official: HK report
Xin Qi (辛旗), a renowned Chinese academic who has visited Taiwan several times and met with high-ranking Taiwanese politicians, is also the deputy head of the Liaison Department of the People's Liberation Army (PLA) General Political Department (GPD/LD), according to a report by the Hong Kong newspaper Sing Tao Daily.
The Liason Department is a military intelligence agency similar to the Intelligence Department of the PLA General Staff Department.
The report made the claim based on an article posted by the Beijing-based All-China Federation of Taiwan Compatriots (ACFTC) on its Web site on Jan. 23.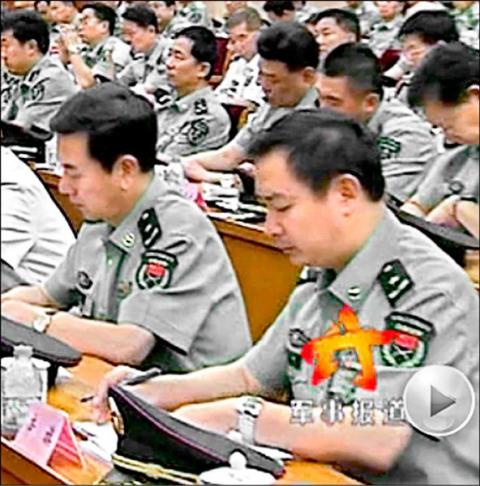 Deputy director of the Liason Department Xin Qi (right).
Photo: Sing Tao Daily
The article said that Xin, in his capacity as deputy director of the Liason Department, had accompanied ACFTC president Wang Yifu (汪毅夫), vice president Yang Yizhou (楊毅周), secretary-general Liang Guoyang (梁國揚) and councilor Shi Maolin (史茂林) during their visit to the Unsung Heroes Memorial Square in Beijing's Western Hills National Forest Park.
The federation removed the article and replaced it with a new version, in which Xin was referred to as Chinese Culture Promotion Society (CCPS) deputy director instead, the report said.
Xin, 52, is of Manchu descent and has been dubbed "an all-round academic who excels in philosophy, history, Chinese traditional culture and international strategies."
He has met with a number of senior Taiwanese politicians, including former Straits Exchange Foundation chairman Chiang Pin-kung (江丙坤), former deputy legislative speaker Yao Eng-chi (饒穎奇), Chinese Nationalist Party (KMT) Legislator Wu Yu-sheng (吳育昇), former premier Frank Hsieh (謝長廷) and former Democratic Progressive Party (DPP) chairman Hsu Hsin-liang (許信良), mostly in his capacity as CCPS deputy director or academic.
While some observers have said that it is an open secret that Xin has a military background, via the article posted by the ACFTC, it is the first time his title and ranking in the Chinese military has been clearly noted.
In an interview in 2000, Xin warned then-Taiwanese president Chen Shui-bian (陳水扁) against adopting any pro-independence policies, saying that China was willing to use every necessary means, including "reducing Taiwan to a shambles," to "safeguard its national sovereignty."
Comments will be moderated. Keep comments relevant to the article. Remarks containing abusive and obscene language, personal attacks of any kind or promotion will be removed and the user banned. Final decision will be at the discretion of the Taipei Times.