Hsieh and Peng win BNP Paribas Open
BOOST: The Taiwanese and Chinese tennis players said their doubles titles have brought them some fame, which has made them more confident and motivated
Taiwan's Hsieh Su-wei and Peng Shuai of China beat Zimbabwe's Cara Black and Sania Mirza of India in the BNP Paribas Open women's doubles final on Saturday, improving their record to 11-0 in WTA Tour doubles finals.
Top seeds, doubles world No. 2 Hsieh and world No. 1 Peng, had to fight back from 4-2 down in the first set and No. 5 seeds Black and Mirza had a set point at 6-5 — but the cross-strait duo never stopped fighting, rallying to take the opening set in a tiebreak and going on to a 7-6 (7/5), 6-2 straight-sets victory.
Peng told the WTA Web site that their perfect finals record was never on their minds.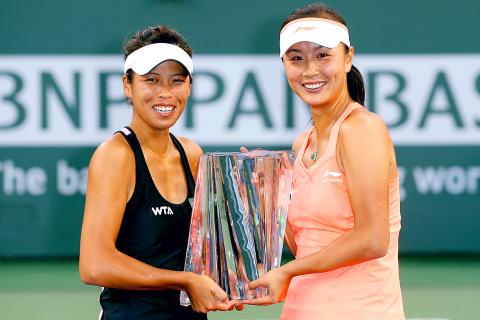 Hsieh Su-wei, left, and Peng Shuai pose for photographers after defeating Cara Black of Zimbabwe and Sania Mirza of India during the doubles final of the BNP Parabas Open at the Indian Wells Tennis Garden in Indian Wells, California on Saturday.
Photo: AFP
"We didn't think about it," Peng said. "Every time we just try to fight every point. Like today, first set we were down, it was really windy and they're a really good doubles team. Cara Black has lots of experience in doubles, especially, and they were giving us a lot of pressure. So we're happy we won."
Hsieh and Peng now have 11 WTA Tour doubles titles — Bali in 2008; Sydney, Rome and Beijing in 2009; Rome, Wimbledon, Cincinnati, Guangzhou and the WTA Championships last year; and Doha and Indian Wells this year.
However, they said that they refuse to let their No. 1 ranking change who they are, or how they feel when they are on court together.
"We're the No. 1 team and people may know us more now, but we still feel the same as before," Peng told the WTA Web site.
"All of this is nice because it helps us become more confident and believe in ourselves more on the court, and we're more motivated now too, but nothing has changed. We're still the same people," Peng said.
"We've known each other a very long time," Hsieh told the WTA Web site. "Sometimes, we don't practice together — like at Wimbledon we never practiced together — but every time we go on court together, we try [to win] every point. If she misses a shot, I give her support. When I miss, she supports me. It's very important in doubles. When we get into a final, we don't think, we just try [to win] every point. This is the key for us."
Comments will be moderated. Keep comments relevant to the article. Remarks containing abusive and obscene language, personal attacks of any kind or promotion will be removed and the user banned. Final decision will be at the discretion of the Taipei Times.