China-bound jet vanishes with 239 aboard
MYSTERY: Officials said they are looking into all possible causes for the disappearance, including terrorism. Most of the 227 passengers were Chinese, but one was from Taiwan
Search teams across Southeast Asia using ships and planes scoured the seas between Malaysia and Vietnam yesterday looking for traces of a Malaysia Airlines Boeing 777 that disappeared from air traffic control screens with 239 people on board.
More than 17 hours after contact was lost with the plane as it entered Vietnam airspace, there was still no sign of Flight MH370, which had left Kuala Lumpur for Beijing early in the morning and did not have enough fuel to fly that long.
Malaysia Airlines CEO Ahmad Jauhari Yahya said there was no indication that the pilots sent a distress signal. The fact that there was apparently no call for help suggests that whatever happened to the flight occurred quickly.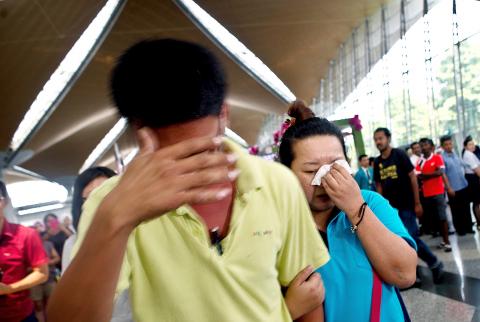 A woman, right, breaks down while leaving the reception centre for families and friends after an airliner went missing at the Kuala Lumpur International Airport yesterday.
Photo: AFP
Two-thirds of the plane's passengers were from China, while others were from elsewhere in Asia, North America and Europe. It disappeared off the radar about an hour after takeoff. Yahya said weather conditions in the area at the time the plane disappeared were fine.
At Beijing's airport, Chinese authorities posted a notice asking relatives and friends of passengers to gather at a hotel about 15km from the airport to wait for further information, and provided a shuttle bus service.
A woman wept aboard the shuttle bus while saying on a mobile phone: "They want us to go to the hotel. It cannot be good."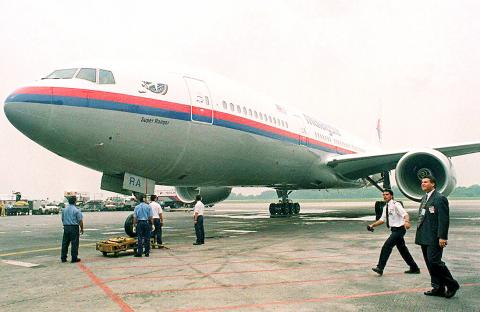 Malaysia Airlines' ground staff park a Boeing 777-200 at Kuala Lumpur International airport on April 2, 1997.
Photo: AFP
Relatives and friends of passengers were escorted into a private area at the Lido Hotel, and reporters were kept away.
A man in a gray hooded sweatshirt later stormed out complaining about a lack of information. The man, who said he was a Beijing resident, but declined to give his name, said he was anxious because his mother was on board the flight with a group of 10 tourists.
"We have been waiting for hours," he said. "And there is still no verification."
Malaysian Prime Minister Najib Razak, center, with his deputy Muhyiddin Yassin, left, and acting Transport Minister Hishamuddin Hussin speak during a press conference yesterday at Kuala Lumpur International Airport, Sepang, Selangor, Malaysia.
Photo: EPA
The plane was last detected on radar at 1:30am around where the South China Sea meets the Gulf of Thailand, about 75 nautical miles (135km) north of the Malaysian city of Kuala Terengganu, Malaysian Director-General of Civil Aviation Azaharudin Abdul Rahman said.
Yahya said the plane had enough fuel to fly only until 8:30am Malaysia time.
Vietnamese Civil Aviation Authority Director Lai Xuan Thanh said air traffic officials in the country never made contact with the plane.
The plane "lost all contact and radar signal one minute before it entered Vietnam's air traffic control," People's Army of Vietnam Deputy Chief of Staff Lieutenant General Vo Van Tuan said in a statement.
The South China Sea is a tense region with competing territorial claims that have led to several low-level conflicts, particularly between China and the Philippines. That antipathy briefly faded as nations of the region rushed to aid in the search, with China dispatching two maritime rescue ships and the Philippines deploying three air force planes and three navy patrol ships to help.
"In times of emergencies like this, we have to show unity of efforts that transcends boundaries and issues," Philippine Western Command Commander Lieutenant General Roy Deveraturda said.
Thanh said Malaysian, Singaporean and Vietnamese search officials were coordinating operations. He said Vietnam had sent aircraft and ships to scour the 11,200km2 area where the plane was last known to be. Vietnamese fishermen in the area were asked to report any suspected sign of the missing plane.
Asked whether terrorism was suspected, Malaysian Minister of Transport Hishammuddin Hussein said authorities had "no information, but we are looking at all possibilities."
The plane was carrying 227 passengers, including two infants, and 12 crew members, the airline said.
It said there were 152 passengers from China, 38 from Malaysia, seven from Indonesia, six from Australia, five from India, three from the US, and others from Taiwan, Indonesia, France, New Zealand, Canada, Ukraine, Russia, Italy, the Netherlands and Austria.
Finding planes that disappear over the ocean can be very difficult, and it can take days before wreckage is located.
Comments will be moderated. Keep comments relevant to the article. Remarks containing abusive and obscene language, personal attacks of any kind or promotion will be removed and the user banned. Final decision will be at the discretion of the Taipei Times.