Four killed in twin suicide bomb attack in Lebanese capital
A double suicide car bombing targeted an Iranian cultural center in Beirut yesterday, killing at least four people in the latest attack linked to the conflict in neighboring Syria.
The attack was quickly claimed by the Abdullah Azzam Brigades, a jihadist group inspired by al-Qaeda, which previously claimed an attack against Iran's embassy in Beirut.
Jihadists have carried out a string of attacks targeting both Iran and the Shiite Hezbollah movement, both of which have provided support to Syrian President Bashar al-Assad's regime as it battles a Sunni-led rebellion.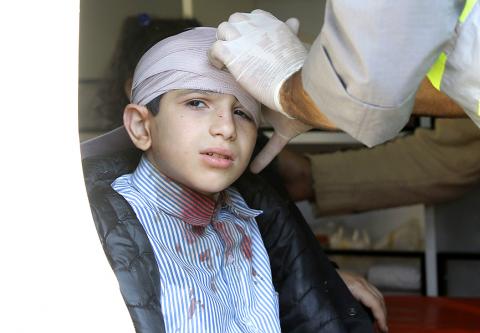 An injured boy receives treatment yesterday inside an ambulance at the site of an explosion near the Iranian cultural center in a southern suburb of Beirut, Lebanon.
Photo: Reuters
Lebanon's army confirmed the attack was a double suicide car bombing, and Minister of Public Health Wael Abu Faour said four people were killed and 103 wounded.
A photographer at the scene said the blasts had occurred beyond a security checkpoint at the Iranian cultural center and close to the building.
The explosions sent a large plume of smoke over the area and Lebanese television showed scenes of widespread destruction.
Emergency teams carried wounded people away from a charred street strewn with rubble, as residents armed with fire extinguishers helped firefighters put out blazes.
The Abdullah Azzam Brigades claimed the "double martyrdom operation" on its Twitter account and pledged to continue its attacks against Iran and "its party" — a reference to Hezbollah.
"We will continue ... to target Iran and its party in Lebanon, in its security and political and military centers, until our demands are achieved," the group said. "First: that the Party of Iran withdraws its forces from Syria. Second, that our prisoners are released from Lebanese prisons."
Lebanese Prime Minister Tammam Salam condemned yesterday's attack, saying it was a "message reflecting the determination of the forces of evil to harm Lebanon and its children and sow discord."
"The message has been received and we will respond to it with solidarity and commitment to civil accord and rallying around our army and our security forces," he said in a statement.
Comments will be moderated. Keep comments relevant to the article. Remarks containing abusive and obscene language, personal attacks of any kind or promotion will be removed and the user banned. Final decision will be at the discretion of the Taipei Times.