New toll plan costs hundreds their jobs
HEAVY TOLL: A total of 938 toll collectors have to leave their posts to make way for a new toll system, but could take solace in the many gifts they received from drivers
More than 900 freeway toll collectors will lose their jobs today as a new "pay-as-you-go" policy is rolled out across the nation's freeways.
The National Freeway Bureau said yesterday that it would start tearing down 22 toll booths along freeways today.
The dismantling work is to begin on the inner lanes of the freeways and is set to be completed before the Lunar New Year holiday. The remaining booths are to be removed after the holiday.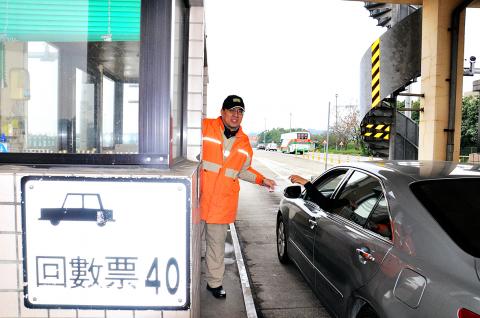 Lin Fu-chin, who has been a toll collector at the Zaoqiao Toll Station in Miaoli County for 12 years, yesterday works on his penultimate day on the job, which he said he was very sad to leave.
Photo: Peng Chien-lee, Taipei Times
The new policy is to take effect from 12am today, forcing 938 toll fee collectors to leave their posts.
Huang Kuo-chung (黃國忠), director of the Gangshan (崗山) Toll Station in Greater Kaohsiung, said the station started receiving gifts from drivers to thank the toll collectors for their service about one week ago. The presents ranged from thank-you cards and drawings, to envelops of cash.
Huang said that although the gesture is appreciated and moved some of the toll collectors to tears, he had to ask drivers to stop sending presents since their sheer volume was causing problems.
With prepaid toll-free tickets now obsolete, collectors found innovative ways to obtain some.
Truck company owner Lin Chi-song (林鋕松) drove through 22 toll stations just to collect the payment receipts for different types of vehicles.
Lin said that, sadly, this generation will likely grow up not knowing what a toll station looks like.
Lin began his journey at New Taipei City's (新北市) Sihjhih (汐止) on National Freeway No. 1, then drove to Gangshan (崗山) Toll Station, after which he headed northbound from Jutien (竹田) Toll Station in Pingtung County to Cidu (七堵), before finishing his trip at the Toucheng (頭城) Toll Station on Freeway No. 5.
Another highway toll fan, Chen Hsin-cheng (陳信誠), has been driving through the cash-only lanes so that he can collect the payment receipts, even though he has an e-Tag installed in his car.
Chen, who works in Greater Tainan's Chimei Hospital, also holds a bus driver's license, which enabled him to collect toll payment receipts for buses, as well as small passenger vehicles.
Chen said he still has about 10 prepaid tickets, but instead of having them refunded by the government, he said he will keep them to commemorate a part of the nation's freeway history.
Comments will be moderated. Keep comments relevant to the article. Remarks containing abusive and obscene language, personal attacks of any kind or promotion will be removed and the user banned. Final decision will be at the discretion of the Taipei Times.